In the first session of our Climate Action Series, we are joined by Nigel Topping, Climate Action Champion for COP26, and Sir Douglas Flint, the Chairman of Standard Life Aberdeen. In this discussion, they examine the current climate change risks and the pressing need for action in the race to net-zero. They also highlight the policy and sector changes that are needed to tackle climate change. Governments, businesses, investors and customers have a collective responsibility to achieve net-zero emissions by 2050.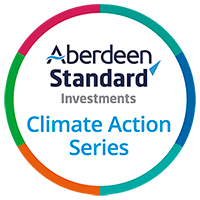 IMPORTANT INFORMATION
Foreign securities are more volatile, harder to price and less liquid than U.S. securities. They are subject to different accounting and regulatory standards, and political and economic risks. These risks are enhanced in emerging markets countries.
US-031220-135703-1