Originally published January 2018
Postscript to the Asia Pacific Insurance Survey
Executive summary
Introduction
Back in 2016, Standard Life Investments commissioned research to identify trends impacting Asia Pacific insurers. The companies surveyed represent an estimated 60% of the total insurance market.
This survey identified the pressures facing traditional business models and analysed the investment implications.
The research was conducted in six geographies across Asia Pacific, selected to ensure coverage of markets both in terms of size and stage of industry maturity. NMG, an independent global research consultancy, conducted one hour, face-to-face interviews with 51 senior investment professionals during Q1 2017.
Asia Pacific's insurers are shifting their asset allocation in response to twin forces: low interest rates and changing regulations. The Asia Pacific Insurance Survey identified a gap in returns between guaranteed products sold and the investment returns generated to pay for these guaranteed returns.
This paper combines our 10-year return forecasts with the asset allocation information from the survey to quantify the size of the problem. We look at asset allocation strategies that insurers can adopt to help bridge this gap. We also consider the barriers that need to be overcome before adopting these strategies.
Summary
Government bond yields are close to multi-decade lows. Respondents to the Asia Pacific Insurance Survey, representing an estimated 60% of the total Asia Pacific insurance market, hold more than half their assets in fixed income securities.
These low yields mean insurance companies are struggling to generate sufficient returns on their investments to generate a profit on their guaranteed-return products. At the same time, regulatory changes are forcing insurance companies to recognise the risks created by this gap in returns. This is forcing insurers to rethink their asset allocation strategies.
As an example, applying our expected 10-year returns to the current asset allocation of the Japanese survey participants produces an expected return of 1.8% per annum. This is the return before accounting for hedging costs and fund management fees. The survey indicated the average guaranteed return embedded in long-term liability business in Japan was 1.7%.
Asia Pacific insurers intend to increase exposure to alternative assets and global equities, while reducing exposure to domestic bonds. These assets not only provide higher expected returns, but also include longer-dated assets to better match longer-dated liabilities.
Insurers need to overcome a number of barriers before they can execute this strategy. Hurdles include hedging costs, regulatory barriers and gaps in internal capabilities.
External managers can help insurers to bridge the return gap. However, our survey highlighted that external managers must first work harder to build trust.
Today's 'low-for-longer' interest rate environment remains a persistent concern among insurers in Asia Pacific. For the region's insurance chief investment officers (CIOs), the asset allocation challenge this presents has become deeply challenging.
While low rates can challenge the profitability of all insurance business, it is a particularly pressing topic for books of life assurance policies that include long-term minimum guaranteed returns written in times when market interest rates were significantly higher. This is an insurance CIO's dilemma.
The challenge of low rates and long-term guarantees is a recurring concern across the global life assurance sector, as shown in the Asia Pacific Insurance Survey conducted by Standard Life Investments.
For Asia Pacific, the low rate challenge varies significantly across the region, but all economies are in the midst of an extraordinary multi-decade era of falling long-term yields.
Varying cases of 'low' in Asia Pacific
Economies in Asia Pacific have legacy long-term life businesses of different sizes and shapes, and the levels of long-term interest rates across the region are at varying degrees of 'low' today. The survey analysis suggests the life assurance sectors in South Korea, Japan and Taiwan appear to have a low rate/long-term guarantee challenge comparable in character to that currently present in some economies in Northern Europe.
In the current low-for-longer macroeconomic environment, the levels of short-term interest rates and, in particular, the unprecedented case of currencies breaching the previously assumed zero interest rate bound and experiencing negative short rates dominate the challenge for investors.
However, for long-term liability business that is run with a net asset-liability duration shortfall, what matters most is the behaviour of the longer end of the yield curve. Chart 1 provides an illustration of the history of long-term interest rates in the markets covered by the survey. This highlights that some of the economies are in the midst of an extraordinary multi-decade era of falling long-term yields.
For life assurance firms that typically hold portfolios of bond assets with duration several years shorter than the duration of their guaranteed liability cashflows, this macroeconomic outcome essentially represents the realisation of a severe multi-decade stress scenario.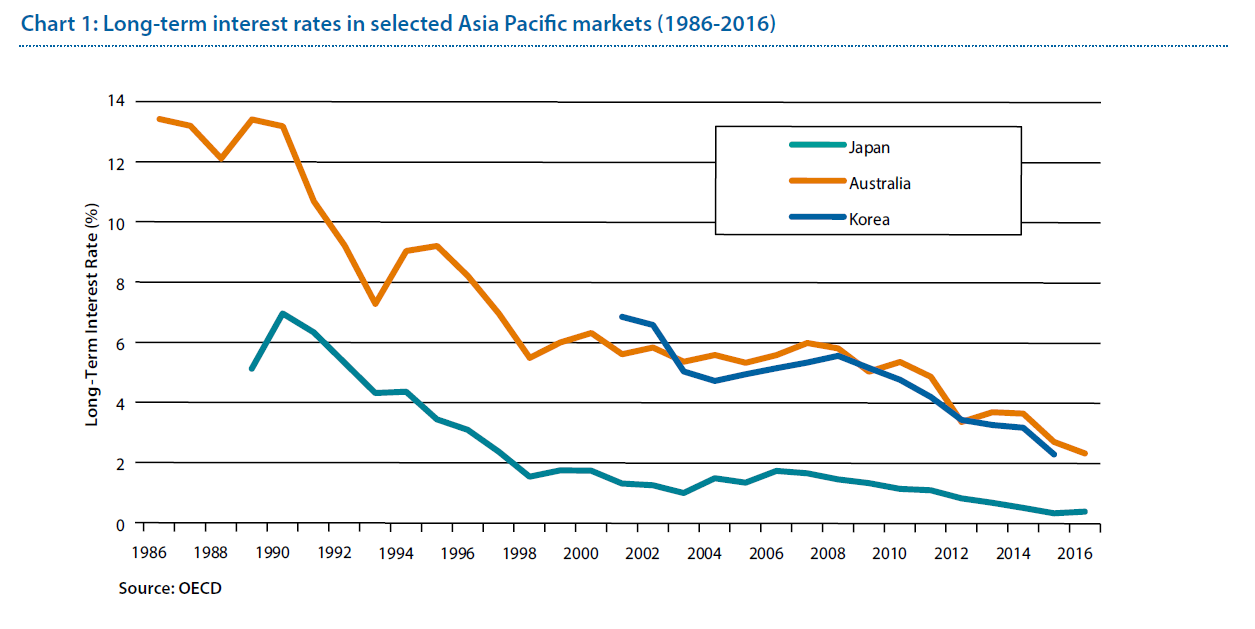 Actual, expected and unexpected returns
There is significant variation in asset allocation tendencies across Asia Pacific. In Chart 2, the allocations are all characterised by the dominance of fixed income assets and, on average across the region, two-thirds of assets are invested in some form of fixed income bond. As such, what could be the expected asset return for the long term?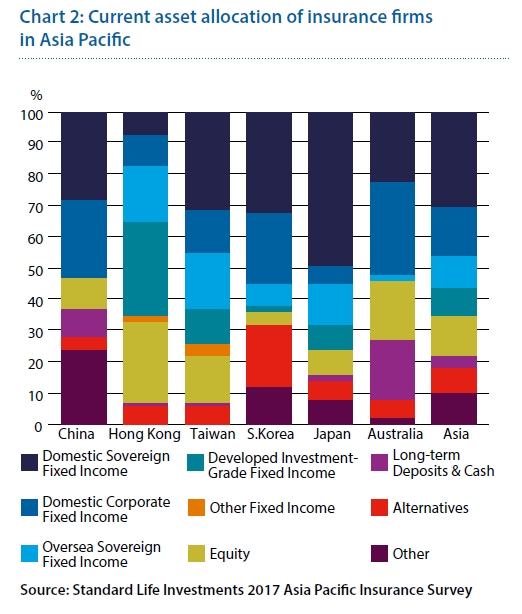 As an instructive example, let us consider Japan. Chart 3 provides the 10-year expected return for a Japanese investor (in local currency) investing in each of the asset class categories shown in Chart 2. These are recent estimates made by Aberdeen Asset Management's Strategy Team1.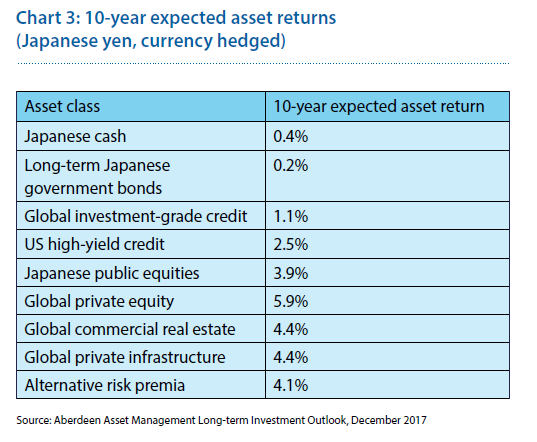 The current asset allocations and long-term expected asset returns set out above imply the 10-year expected return generated by Japanese insurers' asset portfolios is 1.8% per annum2. Interestingly, this is similar to the 1.6% average that Japanese insurance CIOs estimated in response to a survey question on their portfolio's expected return. Indeed, the slight difference may reflect the CIOs' views of currency hedging costs and other portfolio management costs which are not included in our long-term asset class expected return estimates rather than a significantly different view of forecast returns.
1 Long-term Investment Outlook, UK edition, December 2017
2 Assuming the Alternatives category has an expected return of 4.1%, and that the Other category in the survey's asset allocation is invested in Alternatives.
Narrowing the return gap?
The survey indicated the average guaranteed return embedded in long-term liability business in Japan was 1.7%. The above analysis suggests there is not currently a significant shortfall between the long-term expected asset portfolio return and this long-term minimum return guaranteed to policyholders.
Nonetheless, these results suggest the portfolios are certainly not within the comfortable excess return margin that was originally intended when the bulk of this business was written. Are CIOs intending to adjust their portfolio's strategic asset allocations to bridge the gap?
The results are quite striking - insurers intend to increase exposures to alternative assets (Chart 4). The low rate environment is motivating a shift away from traditional domestic fixed income assets and towards a more diversified and higher-returning strategy.
There are historical precedents for long periods of falling long-term interest rates being followed by asset strategy innovation by life assurers. For example, in the 19th century, the long period of falling long-term interest rates in the decades after the Napoleonic Wars was accompanied by a similar trend, with British life offices switching a proportion of their gilt holdings into private loans and mortgages.
Across Asia Pacific's regulatory landscape, the gradual but consistent move towards more principle-based and risk-sensitive systems is key in making these asset allocation changes feasible. All of the economies in Chart 4 have made, or are in the process of making, significant changes to the regulatory supervision of insurance firms. These are aimed at increasing the risk-sensitivity of their regulatory capital assessment regime. These shifts enable insurers to invest in a wider range of asset types and strategies without incurring regulatory capital charges that are disproportionate to the risks generated.
These asset allocation plans can improve expected returns and/or reduce capital requirements under a risk-sensitive system.
Switching out of domestic sovereign fixed income and into a range of higher risk assets reflects an increase in investment risk appetite that will lead to higher expected portfolio returns. Still, insurers' tendency to be highly capital-sensitive will mean this upwards shift in risk appetite will be limited by its accompanying increase in regulatory capital requirements.
Obtaining exposures to new asset classes that offer diversification with insurers' traditional risk assets can improve expected returns without significantly increasing overall portfolio risk. Overseas fixed income, global equity and alternative assets could all be viewed as offering risk diversification benefits. This diversification rationale will be increasingly important under more risk-sensitive regulatory capital approaches that can recognise much or all of these portfolio diversification benefits in the capital assessment.
Switching from liquid to illiquid assets on a risk equivalent basis can provide higher returns without increasing market risk or credit risk. This is a compelling proposition for life assurers where their liabilities do not require all of the assets backing their liabilities to be liquid, for example, because policy lapses are either not possible or occur at very predictable rates. The shifts into infrastructure, real estate and private equity can be viewed from this perspective – although the estimates of the illiquidity premium on offer will generally vary by asset class and through time.
New strategies for allocation shifts
The Asia Pacific survey respondents noted they must overcome many hurdles and challenges (examples below) to successfully implement changes in asset allocation.
Regulatory or legal constraints. Several regional economies, including Taiwan and South Korea, have regulatory or legal constraints on the proportion of assets that insurers' can invest in foreign markets. Many of the asset class shifts in Chart 4 will inevitably entail increases in the allocation to overseas assets. This is clearly the case for global equity and overseas fixed income allocations. This may also be true for alternative assets such as infrastructure and private equity, which may not be available domestically in the necessary form and size for significant institutional insurance investment.

There is an expectation these foreign investment restrictions may be relaxed in the coming years, but there is inevitably some political and regulatory risk associated with that expectation.

Currency risk. This is an important consideration for Asia Pacific insurers making increases to overseas asset allocations. Currency hedging may be difficult and expensive to implement for many regional currencies. This may be exacerbated by the illiquid and risky nature of the overseas asset, which makes it unlikely to be suitable for use in collateralising currency derivative positions that have been put in place as hedges. However, some insurers may intend to leave some currency exposures unhedged, viewing the currency risk as a legitimate source of investment return – when the insurer expects their local currency to depreciate.

Such unhedged currency risk exposures, however, are significantly capital-consuming.

New skills and capabilities. It is also important to recognise that investing in unfamiliar asset classes will require the insurer to obtain new capabilities and expertise. Even when the management of the asset class is outsourced to an external asset manager, it will still be crucial for the insurer to have the internal skills to enable it to appropriately delegate to the manager. They must determine the right mandate and be able to oversee their performance.

It will also be necessary for the insurance firm to develop the risk measurement and valuation modelling processes that accurately capture the specific characteristics of these distinct asset classes. This must be done in a sufficiently granular way to obtain a regulatory capital treatment that is consistent with (rather than in excess of ) the level of risk of the asset. Without such skills and capabilities, insurers may rightly attract significant challenge from their regulator.

Use of external managers. An asset manager familiar with the level of detail and transparency that insurers require about their portfolio and its risk characteristics for the purposes of modern principle-based capital assessment can play a vital supporting role in the capital assessment processes.

The practical challenges will demand careful consideration and commitment by insurance firms, but the move towards more principle-based and risk-sensitive capital systems provides an opportunity for investment strategy innovation. This opens the door to a range of higher return asset classes. This is an option that the Asia Pacific life insurance industry can ill-afford to ignore in today's low-for-longer macroeconomic environment.