Tactical Asset Allocation (TAA)
The multi-asset team's view on bonds, equities, commercial property and other assets will affect asset allocation over the coming months. When making these asset-allocation decisions, we first consider the outlook for each asset class (e.g. government bonds), followed by views within that market (e.g. the US versus Europe, or European core economies against peripheral countries). The views of individual asset class teams may differ to this multi-asset view.
TAA Model Allocation - as at June 2019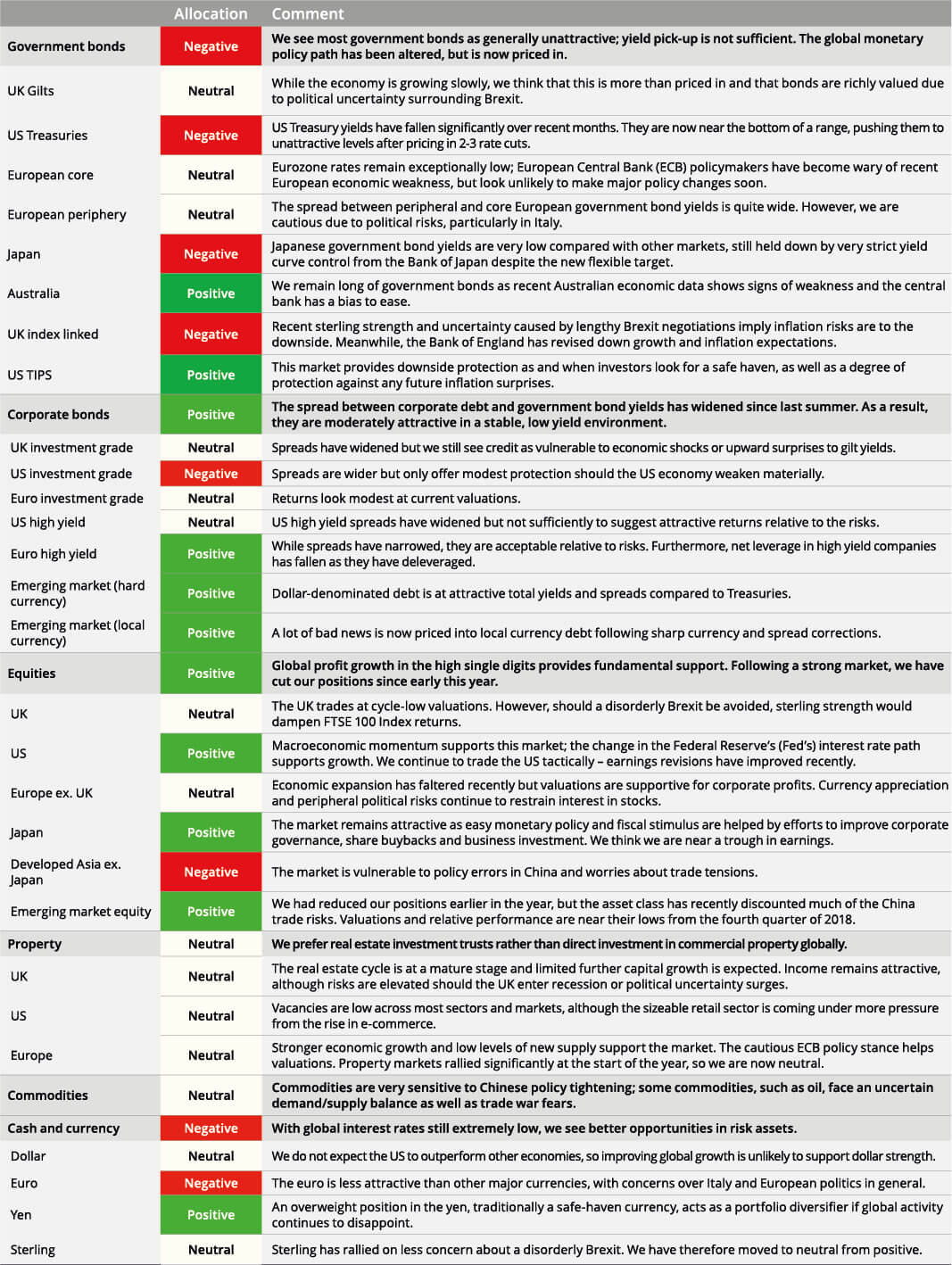 Foreword
Author
We are delighted to present the June edition of the Aberdeen Standard Investments (ASI) global outlook. We have a fascinating set of articles this month, covering topical issues for investors and our thoughts about investment challenges over the longer term.
A common theme across the suite of articles is the enormous range of risks that need to be managed. These include investment risks – which are discussed in this month's spotlight article on retirement solutions and the article on the risk of under-allocating to Asian assets – and corporate social responsibility risks for example human rights abuse.
In chapter 1, the ASI portfolio engineering team describes how the traditional risk measure, which is based on return volatility, is insufficient for individual investors to set their asset allocation when they move to retirement and begin to draw down their savings. The team shows how asset allocation might change when a more intuitive metric, such as the risk of running out of money, is used.
In our most topical article, Karolina Noculak from the multi-asset team discusses why we are maintaining a positive tactical view on equities in the face of pessimism in markets. She highlights a number of reasons for expecting continued earnings growth, including easy policy and limited cost pressures.
From the emerging market debt team, Paul Lukaszewski argues that the Asian credit market is too big to be ignored by global investors. He argues that with strong fundamentals, attractive valuations and decreasing correlations to US credit, global investors should be capitalising on the opportunities in Asian credit.
Beyond the traditional asset classes, Stephen Coltman from the alternative investment strategies team suggests that there are attractive opportunities in four key areas of alternatives: event-driven investing, alternative credit, fixed-income relative value, and volatility trading.
Finally, Elizabeth Meyer from the environmental, social and governance (ESG) team explains how companies are increasingly exposed to the financial risks associated with abusing human rights. With mandatory due diligence on the rise, it is time for a robust approach to upholding human rights.
Download this article
as a pdf
Download
Risk measurement in
retirement solutions
Chapter 1
Authors
Risk measurement in retirement requires metrics beyond the traditional volatility measure. Determining the most appropriate asset allocation in retirement requires a new framework with appropriate risk measures.
When accumulating savings for retirement, the investment objective is unambiguously one of growth. Risk in the accumulation phase is also well-defined in terms of the potential for loss of capital. This is typically described by the volatility of investment returns or related downside risk measures. An individual with a greater tolerance for volatility is therefore able to take on a higher level of investment risk, with the aim of achieving greater wealth to fund their retirement.
Once we enter retirement the risk-return landscape becomes significantly more complex
Once we enter retirement, however, the risk-return landscape becomes significantly more complex. The primary objective in the decumulation phase ceases to be pure growth, but to use the accumulated retirement wealth to sustain a target level of income throughout the retirement period. Similarly, volatility of investment returns is no longer a suitable risk measure as it does not describe the risk of failing to meet this objective. The traditional Markowitz mean-variance framework, a mathematical model to maximise the return for a given level of portfolio volatility, is therefore inappropriate. When designing retirement solutions for decumulation, we need a different risk-return framework within which to evaluate different strategies.
As a simple example, illustrated in Chart 1, we consider a pot of savings that aims to provide a regular income during a retirement period of 25 years. We ignore longevity risk (any income requirement beyond 25 years can be assumed to be met by a later life annuity). Initially, we wish to examine how different portfolio asset allocations between a risky asset (equity) and a defensive asset (bonds) will fare when a regular income of 4% of the initial pot size is drawn. This is a trivial example when considering the primary income objective alone (no investment solution is necessary to withdraw 25 amounts of £4 from an initial pot of £100). However, retirees will typically also be concerned with secondary objectives such as bequest objectives, i.e. leaving a certain amount of wealth at the end of the retirement period. As well as the expected total amount of income withdrawn during the retirement period, we therefore also consider the 'expected total wealth'. This is the sum of the average total income withdrawn and the average final wealth remaining at the end of the 25-year period.
Chart 1: Regular income of 4% of an initial pot size of £100 over 25 years, with risk represented as volatility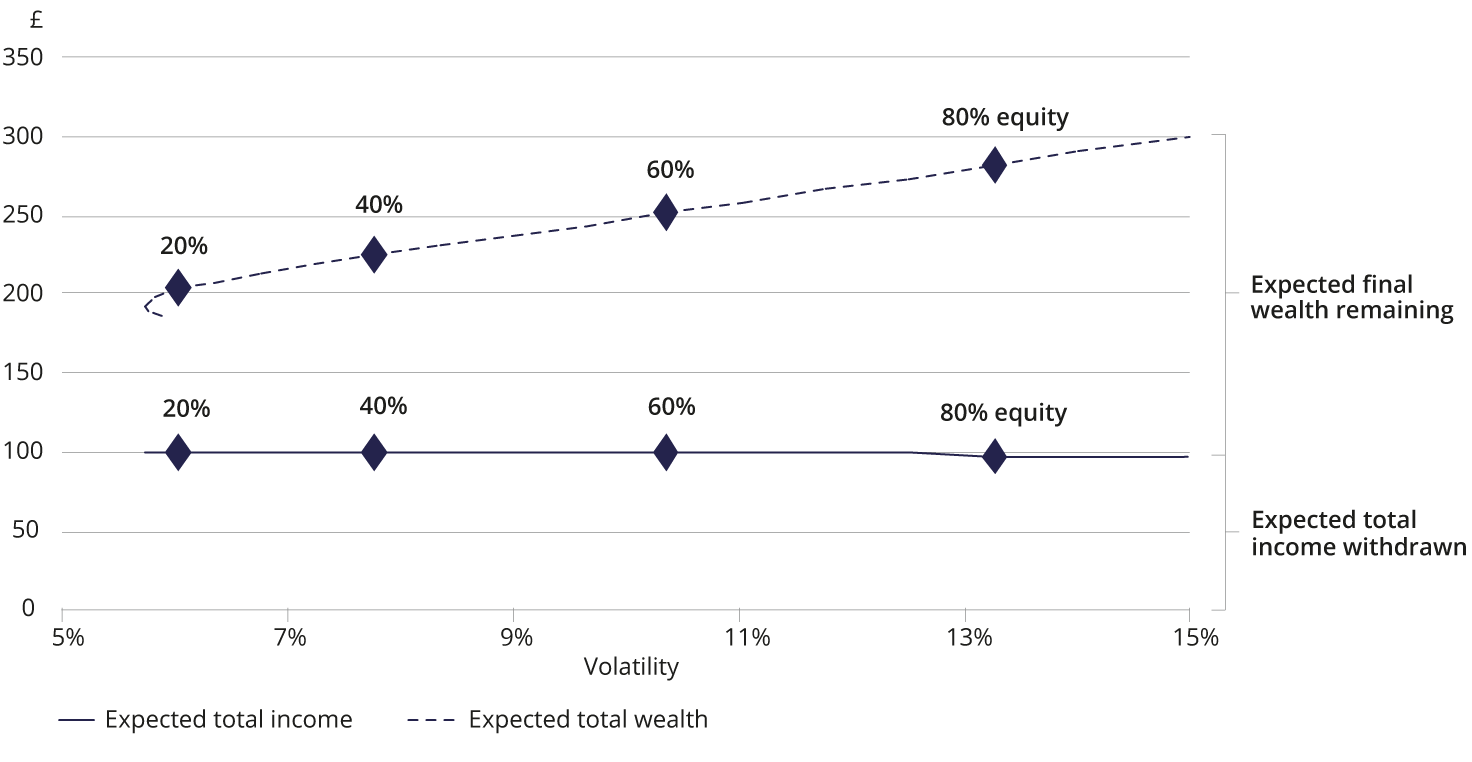 Source: Aberdeen Standard Investments (as of May 2019)
Chart 1 illustrates this example in a typical accumulation risk-return framework, using volatility as the risk metric. For a portfolio comprising 20% equity and 80% bonds we can expect, on average, a total income over the 25 years of 100 (25 lots of 4) and approximately a further 100 final wealth remaining at the end of the 25-year period. The chart is telling us that, in order to achieve a higher expected total wealth, we must accept a higher portfolio volatility. However, it tells us nothing in terms of the real risks of failing to achieve the objective in retirement.
A more relevant risk measure in the context of decumulation is the probability of running out of money. That is, income withdrawals deplete the pot before the end of the 25-year retirement period. This captures important dynamics such as the sequence of returns, which can be particularly damaging in decumulation. A large percentage decline in the value of assets earlier in retirement is more difficult to recover from if it occurs while an income is being withdrawn. In addition to the probability of running out of money, other measures that attempt to quantify the amount of income at risk can be considered. These include the average number of years of income that would be lost.
Chart 2 illustrates the same example but using the probability of running out of money as the risk metric. The chart provides much more useful information in terms of helping an individual evaluate different retirement strategies. As previously mentioned, for this particular example, an individual does not need to take investment risk to achieve the desired level of retirement income with no risk of running out of money. We can see from Chart 2, however, that investing in a portfolio with an equity allocation of up to around 40% can give rise to a significant increase in expected total wealth (up to around £225) with minimal increase in the probability of running out of money (less than 0.3%). Raising the equity allocation beyond 40% further improves the expected total wealth, but with increasing risk to the primary income objective.
Chart 2: Regular income of 4% of an initial pot size of £100 over 25 years, with risk represented as the probability of running out of money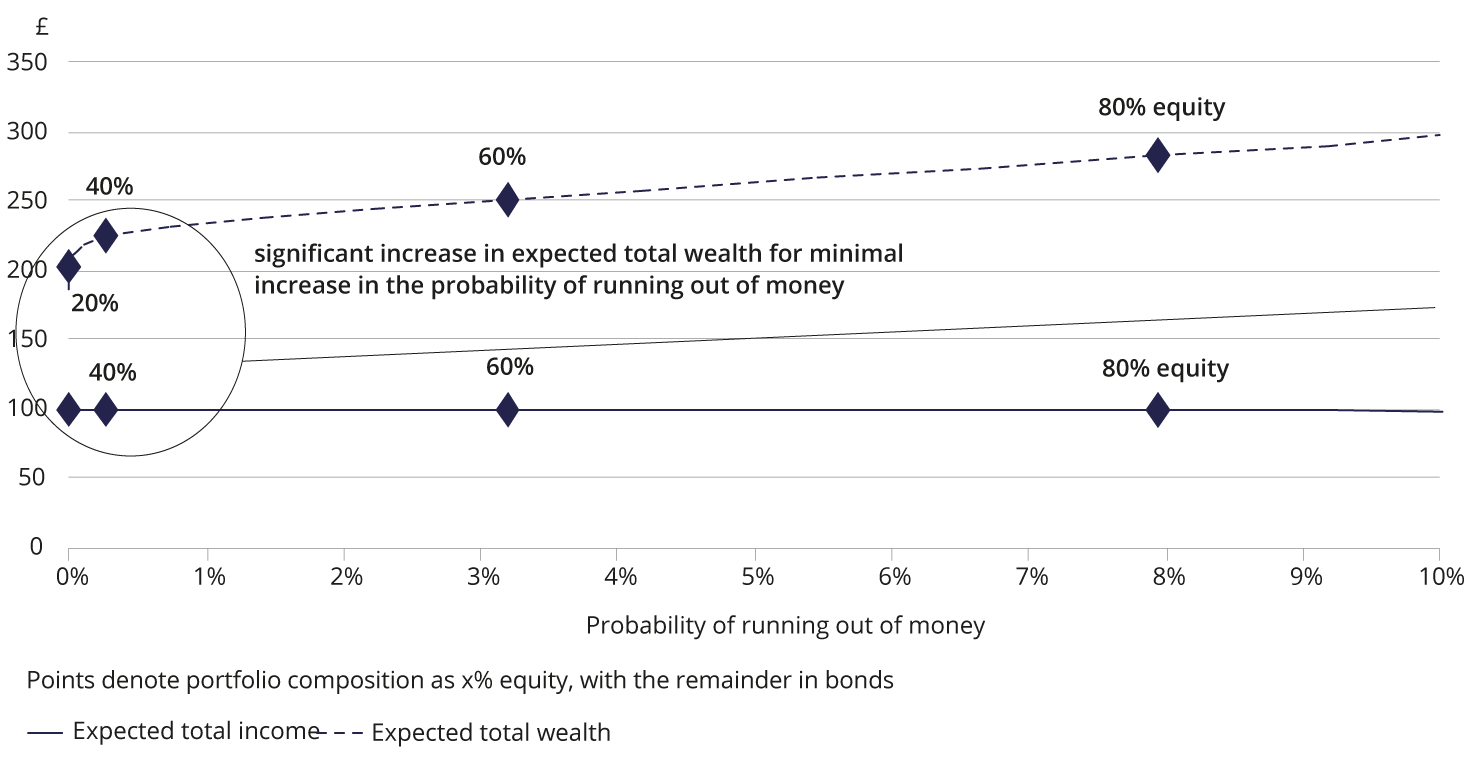 Source: Aberdeen Standard Investments (as of May 2019)
If the desired retirement income can be achieved with minimal probability of running out of money, as is the case in the 4% income example, a retiree may choose to accept a higher probability of running out of money for a higher expected total wealth by investing in a portfolio with a larger allocation to risky assets. Alternatively, the retiree may seek to target a larger regular income at the expense of the level of expected total wealth, as long as the probability of running out of money can be contained to an acceptable level.
Chart 3 incorporates simulation results for a 5% income withdrawal rate, alongside the previous 4% income example. It illustrates the interplay between these various factors, and why it is crucial to help an individual make the difficult decisions they face as they enter retirement. It can be seen, for example, that if a retiree is willing to accept no more than a 5% probability of running out of money, they can withdraw a 4% annual income from a portfolio that holds up to around 65% of risky assets. At the same time, they can expect significant residual wealth of around one and a half times their initial pot size, on average (points marked 'A' in Chart 3). For the same risk of running out of money, the same retiree could instead withdraw a larger 5% annual income. However, they would need to restrict their allocation to risky assets to around 35% and would expect roughly half as much residual wealth on average (points marked 'B' in Chart 3).
Chart 3: Regular incomes of 4% and 5% of an initial pot size of £100 over 25 years, with risk represented as the probability of running out of money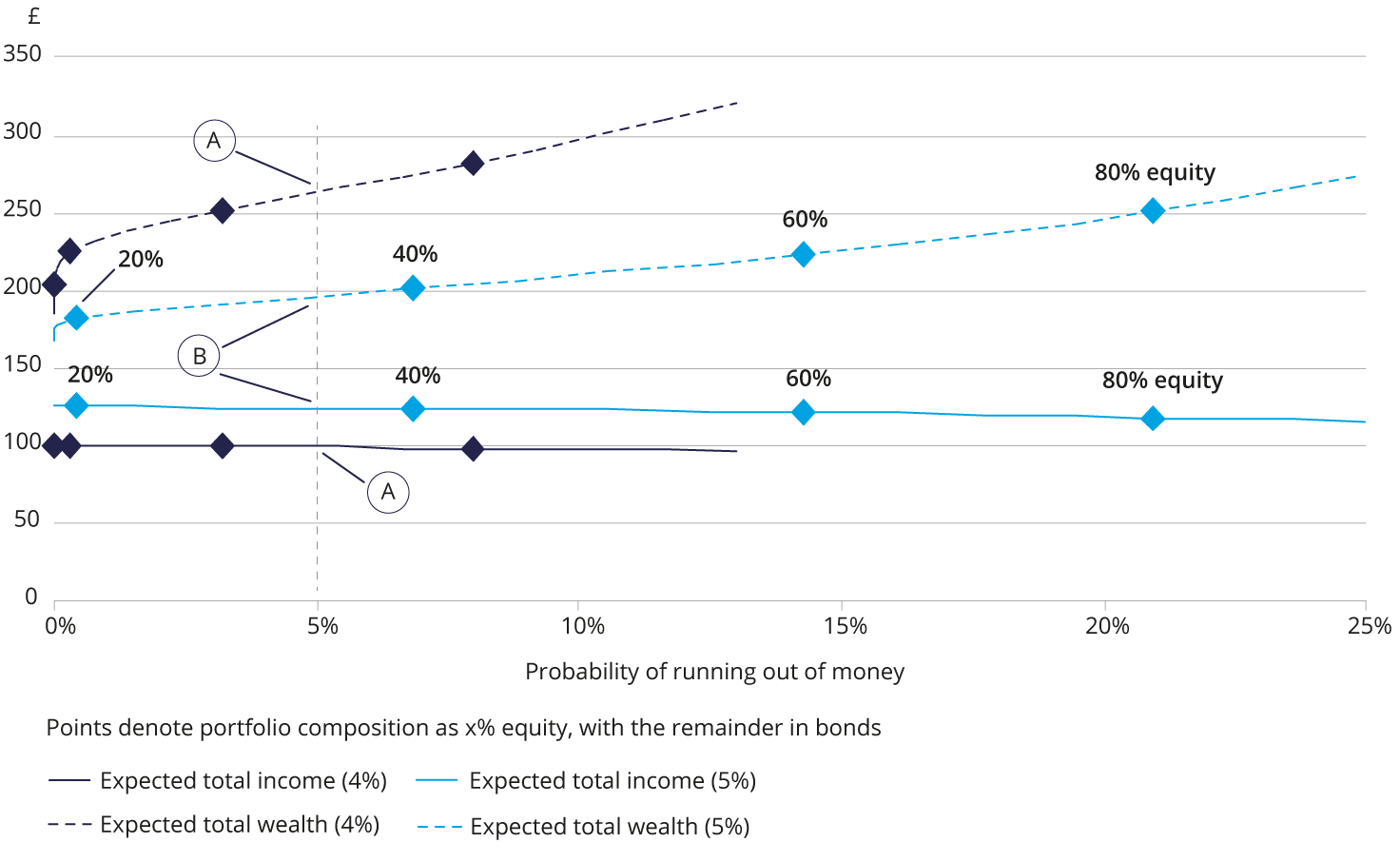 Source: Aberdeen Standard Investments (as of May 2019)
In the examples considered so far, we have looked at risk through the single lens of the probability of running out of money before the end of the 25-year period. In reality, risk in retirement is multi-dimensional. An individual retiree may have multiple goals, with a different level of importance attached to each. For example, an individual with other sources of retirement income such as a defined benefit pension or rental income may be less reliant on the regular income from their accumulated savings. Thus, they might attach more importance to maintaining/growing their wealth for ad-hoc or unforeseen expenditures, or to leave a bequest. An individual's risk aversion in retirement will therefore be defined by a holistic view of their retirement goals, and the risks to those goals across all scenarios that could play out during their retirement.
To simplify the problem, we can use the concept of a utility function to describe the relative importance a retiree attaches to generating excess wealth versus falling short of their target income. For example, for a retiree whose clear priority is to secure a regular income, scenarios where there is a shortfall in income will be heavily penalised in comparison with the modest positive weighting attached to favourable scenarios. In this way, a particular retiree's attitude to these different risks is linked together into a single measure of risk aversion. For a given shape of utility function, Chart 4 illustrates the optimal portfolio allocation to risky assets for different income withdrawal rates and different levels of risk aversion.
Chart 4: Optimal equity allocations for different income withdrawal rates and levels of risk aversion
Source: ThomsonReutres DataStream, Bloomberg, internal calculations Aberdeen Standard Investments (as of April 2019)
In conclusion, risk measurement in a retirement context requires metrics beyond the traditional volatility measure. Volatility may be useful to give a sense of the stability of the value of accessible savings during retirement. However, it does not help in evaluating the most appropriate solution for meeting an individual's key retirement goals. Typically, more than one risk measure is necessary, with multiple stochastic scenarios required to truly appreciate the risks inherent with each solution. Finally, the traditional mean-variance framework used in accumulation to map an individual's risk aversion level to a proposed asset allocation becomes much less relevant in decumulation. Determining the most appropriate asset allocation in retirement requires a new framework with appropriate risk measures.
Once we enter retirement the risk-return landscape becomes significantly more complex
Earnings fears recede: why we
remain positive on equities
Chapter 2
Author
Fears of a US earnings recession have evaporated following robust announcements of corporate profits. Analysts are no longer downgrading their forecasts and we expect US earnings to rebound later this year.
Stock markets can be affected in the short term by political risks, such as trade threats between the US and China. However over the long term the key driver of returns is more likely to be corporate profits growth. In this article we examine recent trends and future prospects. On the key assumption that a full blown trade war is avoided, we remain positively inclined towards equity performance, over the near term.
Analysts have revised up their earnings expectations for the first quarter
As we entered the first-quarter earnings season, most equity analysts were downbeat. After the whopping +20% year-on-year earnings-per-share (EPS) growth delivered by the S&P 500 in the second half of 2018, the only way seemed to be down. Analysts had to factor in not only demanding base effects, but also a synchronised slowdown in global economic activity. The resultant pessimism led to the biggest downgrades to EPS expectations since 2016, as shown in the chart.
Chart 1: Better expectations
Source: Refinitiv Datastream, Aberdeen Standard Investments (as of May 2019)
The downgrades were particularly pronounced in certain sectors. In technology, for example, fears of increased regulation had led to very conservative guidance from many leading companies. Analysts adjusted forecasts accordingly. All in all, the consensus expectation was for earnings to contract by 2.8% year-on-year in the first quarter of 2019.
But those reduced expectations have been confounded. First-quarter earnings have generally been good, with around three-quarters of the S&P 500's constituents reporting earnings ahead of analysts' expectations. This significantly exceeds the historic average: typically, only two-thirds of companies surprise to the upside. Analysts have revised up their expectations and now expect positive year-on-year growth of over 1% in the first quarter. For the next two quarters, which have the most demanding year-on-year comparators, the consensus expectation is now for low single-digit growth in each.
The equity market reacted favourably to the earnings beats. For example, shares in Facebook were up by 8% on the day of its results. Investors were heartened by its better-than-expected operating performance – to the extent that they appeared undaunted by the $3 billion provision for the Federal Trade Commission's privacy-related investigation. Although a fine of this size would be a record, it means relatively little to a company with $42 billion in cash and liquid assets. Releases from other tech giants were also positive, with the exception of Alphabet (Google), which failed to meet expectations.
We've also seen a hefty amount of share buybacks. Financial and technology companies – most notably Apple – have been the key contributors here. This speaks to corporate confidence in these sectors. We estimate that the recent buybacks have led to a reduction of approximately 2% in net share count, thereby boosting EPS considerably.
The buyback trend looks set to continue. This is what companies typically do towards the end of the cycle, driving EPS up and fuelling demand for their own shares. The recent buybacks have been concentrated in cash-rich sectors, so there are no imminent balance-sheet risks. And the share-price benefits are clear: Apple's stock leapt 5% after it raised its buyback programme to $75 billion.
The big question investors face is whether margins have peaked. But our analysis suggests that underlying operating margins are at the normal level for this point in the cycle. Companies don't seem to be 'over-earning', but simply reaping the benefits of structural shifts to lower corporate taxes and the 'new normal' of low financing costs in the post-financial-crisis world.
One threat could be wage increases, given that the US unemployment rate is at a 50-year low. We don't think, however, that there is anything imminent to fear here. In 2018, corporate selling prices increased faster than unit labour costs in the US – implying expanding corporate margins. Moreover, the S&P 500 contains many multinational companies, insulating it from rising US wages to some extent. A fear of wage increases derailing corporate profits looks misplaced.
Meanwhile, accommodative policy shifts from the world's central banks appears to have helped to stabilise investor sentiment. This has been a major factor in this year's rebound in risk assets. That rebound has vindicated our overweight stance in equities in our multi-asset solutions.
Besides the improvement in sentiment, the policy response from the start of this year is already translating into tangible improvements in economic activity – helping to ease the global economy out of its cyclical slowdown. In particular, the Chinese government's stimulus programme should be a key stabilising factor for global growth. So analysts' fears of a recession materialising this year are giving way to expectations of a pick-up in activity.
We also expect continued strength in US consumption, an important component of global demand. We base this expectation on two factors: first, the strength of the US jobs market; and second, the fact that the US consumer has been benefiting from policy-easing – both through last year's cuts to personal taxes and, more recently, through lower mortgage rates. These have spurred a wave of refinancing, leading to a rebound in US home sales.
Accordingly, we expect the first half to be the lowest point for earnings in the current cycle, with a recovery in the second half supported by accommodative policy and Chinese stimulus. There are always caveats, of course: further twists and turns in the rhetoric or reality of the US/China trade war could pose meaningful risks. But we are content to remain overweight equities, as their prospects for the remainder of 2019 appear sound.
Analysts have revised up their earnings expectations for the first quarter
The Emergence of
External Asian Credit
Chapter 3
Author
The Asian credit market is too big to be ignored by global investors. With strong fundamentals, attractive valuations and decreasing correlations to US credit, global investors should be capitalising on the opportunities in Asian credit.
The size of the external Asian credit market has more than doubled over the past five years. Having grown from approximately $500billion at the end of 2013 to $1.2 trillion as of April 2019. Asian credit is now comparable is size to the US high yield market.
The external Asian credit market has more than doubled over the past 5 years
Asian corporates now account for 53% of the total global stock of emerging market (EM) corporate debt. Indeed, the value of dollar debt from Asian corporates is greater than that of Latin America, Europe, the Middle East and Africa combined. Over the past five years, Asia accounted for 90% of the total growth of the external EM corporate debt stock globally.
The fact that Asia's external corporate credit market has become this size should not be surprising. Asia is home to half of the world's population and half of the world's foreign currency reserves. At market exchange rates, Asia is home to three of the top seven global economies by GDP. Meanwhile, China and India are growing at far faster rates than any of their peers in the top 10. Asia contributes 30% of global GDP but, given the disparity in growth rates, this could hit 50% by 2050. The IMF forecasts that emerging Asia's combined GDP will surpass the US in 2020.
Structural under-allocation to Asia
Despite Asia's size and attractive growth, global investors are structurally under-allocated to the region. One significant reason is that key market indices understate the size of the Asian US dollar credit market. Examples of the relatively modest weight Asia receives include:
Asia weight in the ICE BAML Global Corporate & High Yield Index = 5.2%
Asia weight in the ICE BAML Global High Yield Index = 6.7%
Asia weight in the JP Morgan CEMBI BD = 36.8%
The structural under-allocation is exacerbated by global investors using Asia as a funding source, maintaining underweight positions in Asia relative to their benchmarks to fund overweight positions elsewhere. A recent illustration of this point is visible in JP Morgan's monthly investor survey (April 2019). Here, the average positioning of 200 investors managing over $1 trillion in EM assets (dedicated and crossover investors) revealed the group had underweight positioning in every Asian country. Our team consistently meets with strategists to gain insights and evaluate shifts in global attitudes toward Asia. Though the evidence is anecdotal, the underweight positioning has been, and remains, a consistent theme.
Technical market factors play an important role in Asian credit. The combination of the structural under-allocation from global investors and the ample FX reserves in the region translates to over 80% local ownership of Asian US dollar credit – the highest such ratio for EM markets globally.
Such high local ownership means that local factors, such as economic health and regulation, are often more important market drivers than global investor sentiment. This results in Asian credit having relatively lower correlation to US markets – a critical consideration for global investors looking to optimise their portfolios. We have seen Asian correlation to US credit decline over the past several years. We expect correlations to remain lower, as economies like China and India continue to mature and transition to domestic consumption from low-quality export models.
Fundamentals and valuations are attractive
At BBB+ average rating, Asian credit is the highest credit quality EM asset class available to dollar investors. Furthermore, Asian corporate issuers expose investors to lower leverage than similarly rated US peers across the credit spectrum. As Chart 1 shows, there has been a meaningful divergence in credit quality between US and Asian issuers since 2015, as measured by net corporate leverage. With the rising concern about BBB issuers in the US, Asia's corporate balance sheets are healthy and in a better position to navigate a turn in the cycle or unexpected shocks.
Chart 1: Corporate Net Leverage
Source: Bank of America Merrill Lynch (as of Q4 2018)
The last piece of the puzzle is valuation, which remains attractive for Asian credit. There are many ways to think about valuation, but one of our favourites is to compare spread per turn of leverage. Asian credit historically offered investors an attractive premium, on average around 60% higher spread per turn. Current valuations are even more attractive than the long term average, given Asia's wider spreads and stronger fundamentals.
Summary
The Asian credit market is too big to be ignored by global investors. With strong fundamentals, attractive valuations and decreasing correlations to US credit, global investors should be capitalising on the opportunities in Asian credit. Unfortunately, structural under-allocation remains the status quo and many investors continue to miss out.
The external Asian credit market has more than doubled over the past 5 years
The 'shareholder spring', distorted credit markets,
and low levels of volatility
Chapter 4
Author
We see attractive opportunities in four key areas of alternatives: event-driven investing, alternative credit, fixed-income relative value, and volatility trading.
The appeal of alternative investment strategies varies at different points in the cycle. In this article, we look at a selection of strategies that might be best suited to today's investment landscape.
For many companies the new requirements will necessitate material operational and disclosure changes
An environment of low volatility and tight credit spreads, such as we see today, has historically led to high levels of mergers and acquisitions, spin-offs, and corporate restructurings. This could be because it is easier for buyers and sellers to agree on prices for negotiated transactions during periods of stability. We therefore expect the current robust opportunity set for event-driven, merger-arbitrage strategies to continue over the coming quarters. Additionally, the supportive market backdrop gives corporate management teams a window of opportunity to implement shareholder-friendly strategic change. It also provides strong opportunities for event-driven activist strategies.
However, another feature of the current environment worth noting, in contrast to prior cycles, is a newfound willingness from a much broader range of institutional investors to challenge corporate management teams on issues of strategy, capital allocation, and incentive structures. Being an independent and active participant in shareholder votes, even for 'passive' index funds, is increasingly recognised as an important part of an asset manager's fiduciary responsibility. As the overall shareholder base becomes more engaged, so it becomes increasingly possible for activist investors to drive corporate change at underperforming companies. This change is most evident in Europe, where shareholder activism is beginning to catch up with the US. Indeed, 2018 was a record year for the number of activist European shareholder campaigns. So much so, that it has been called the 'shareholder spring'. With borrowing costs still close to historic lows, and 'dry powder' from private equity at record highs, there remains a strong pipeline of opportunities for event-driven investors that can unlock value in companies by acting as catalysts for change.
In alternative credit, we are also finding attractive opportunities to access the asset class through vehicles that can incorporate hedging instruments to tactically manage credit risk through the cycle. Prices across different corners of the credit markets have responded to the dovish pivot by the US Federal Reserve (Fed) at varying speeds, creating distortions across different market segments. Typically, for example, unsecured high yield spreads trade wider than those on floating rate loans. But after the aggressive rally in high yield bonds this year, investors are now able to receive wider spreads on these loans even though they are higher up the capital structure. Therefore, for investors able to tolerate reduced liquidity allocating capital to senior secured loans could be beneficial. Managing aggregate credit risk by shorting high yield markets, creates an overall lower risk source of return.
Likewise, we see yields in structured credit and specialty finance strategies, such as insurance-linked and aircraft leasing, as attractively priced relative to the broader high yield and investment-grade markets. Finally within fixed income, the change in policy outlook from the Fed, and subsequent volatility in rates, has created opportunities for relative value managers, notably those with expertise in trading treasury cash bonds versus futures basis.
In volatility trading strategies, markets have also dramatically re-priced through the first few months of 2019. Markets were in the doldrums through the latter part of last year, with high implied volatilities across asset classes. But as the Fed turned dovish, implied volatilities collapsed. On a cross-asset basis, implied volatilities traded down to historic lows. Chart 1 shows composite measures of short-dated implied volatility in US interest rates and developed-market exchange rates. The shift to a more accommodative stance by central banks in response to the economic weakness late last year caused these measures to fall to new lows.
Chart 1: Composite measures of short-dated volatility in US interest rates and G10 FX at new lows
Source: Aberdeen Standard Investments (as of May 2019)
At the same time, with volatility generally low for a prolonged period of time, the term structure of volatility has flattened. The cost of carry for owning longer-term portfolio hedges has rarely been cheaper. This 'cheapness' of volatility is applicable across almost all the different regions and asset classes. By comparison, other 'defensive' asset classes are generally at historically expensive levels. This is most striking in the case of government bonds, where investors have allocated in the past to reduce risk, but where yields are trading at historically low levels in most developed markets. As a consequence, with asset valuations generally high and traditional 'safe-haven' assets unattractively priced, we see this as a good opportunity to add volatility-based hedging strategies to portfolios to mitigate downside risks.
For many companies the new requirements will necessitate material operational and disclosure changes
The evolving legal
landscape for human rights
Chapter 5
Author
Companies are increasingly exposed to the financial risks associated with abusing human rights. With mandatory due diligence on the rise, it is time for a robust approach to upholding human rights.
Many global companies have faced allegations of abusing human rights, either directly or indirectly. But even in cases where their role appears obvious, holding companies legally responsible is challenging.
Being an active participant in shareholder votes is an important part of an asset manager's fiduciary responsibility
Moving from reactive to proactive
Modern approaches to regional legislation are taking a new perspective on corporate accountability for human rights, with a focus on mandatory due diligence and disclosures for human rights. If rigorously enforced, we believe these laws could be proactive steps in upholding human rights, rather than just focusing on backward-looking assessments of liability. Companies can avoid regulatory action, costs, and reputational damage by establishing a robust approach to human rights in advance of these regulations. They can also enjoy the benefits of more efficient operations (particularly amid increasingly complex environments), higher supply chain productivity and enhanced brand value.
Why do we need change?
Current international laws are largely ineffective in holding large multinational corporations liable for abusing human rights. Some of the main barriers to successful litigation can include:
weak regulatory regimes where abuses occur
jurisdictional ambiguity because of increasing globalisation
the separation of legal liability between owners and companies (known as the 'corporate veil')
victims lacking the resources to pursue lengthy legal processes.
As a result, victims of abuse can ultimately be left with no legal recourse.
In 2011, the United Nations' (UN) Guiding Principles on Business and Human Rights (UNGPs) marked significant progress in clarifying the role of businesses and states in upholding human rights. The subsequent UN Guiding Principles Reporting Framework, which has been incorporated into prominent reporting and management standards,1 helped the model to work.
However, since the UNGPs and reporting standards are not legally binding, many continue to view them as discretionary. While corporate social responsibility and sustainability reporting have become relatively commonplace (93% of the largest 250 companies globally now publically report on sustainability issues), the quality of human rights disclosures tends to be inconsistent and non-substantive . This makes it difficult for stakeholders to hold companies accountable. Companies leading the way in this space and demonstrating good reporting practices include H&M, Nestle and Anglo American plc.
Efforts to challenge these barriers and to encourage meaningful disclosures are ongoing. Regulators in the UK, the European Union (EU) and Australia are focusing on more proactive requirements for companies, aimed at stopping abuses from occurring in the first place. This includes mandatory due diligence and disclosure laws.
New legal requirements
The lack of consistent reporting has created demand for mandatory reporting requirements, with a strong focus on demonstrating sufficient due diligence processes. Laws already in place in the UK, US and EU – such as the UK Modern Slavery Act (2015), Section 1502 of the Dodd-Frank Act (2012), the EU Non-Financial Reporting Directive (2014), and the California Transparency in Supply Chains Act (2012) – have inspired some of the thinking in other countries. Some of the new laws and proposals are detailed below.
Child Labour Due Diligence Law, 2017 (the Netherlands). This would require companies to determine whether child labour exists in their supply chain and to establish an action plan to address it. The law passed in the House of Representatives, but it is still to be approved by the Senate.
Corporate Duty of Vigilance Law, 2017 (France). From 2018, large companies with operations in France must establish and implement vigilance plans, and include this in their annual report. The plan must address the risks of environmental damage and human rights issues. Austria, Italy, Luxembourg and Germany are considering similar initiatives. And non-governmental organisations (NGOs) in Finland are calling on the government to do the same.
Responsible Business Initiative, 2018 (Switzerland). Large Swiss companies would be legally obliged to incorporate due diligence across all their business activities (including overseas) to ensure respect for internationally recognised human rights and environmental standards. The bill was adopted in June 2018, but the Council of States is still to vote on it.
Conflict Minerals Regulation, 2018 (European Union). Largely inspired by Dodd-Frank, EU regulation requires importers of tin, tantalum, tungsten and gold to comply with and report on supply chain due diligence obligations. This covers whether these minerals originate from conflict-affected and high-risk areas. The regulation takes effect on 1 January 2021.
Modern Slavery Act, 2018 (Australia). Similar to the UK, the Australian Modern Slavery Act requires companies to report annually on the risks of modern slavery in their operations and supply chains. It also includes the actions taken to assess and address those risks. The act took effect on 1 January 2019.
The requirements for each law vary, but commonality can be found among them. Chart 1 highlights the key requirements and penalties for each law or proposal.
Chart 1: Common themes in emerging human rights laws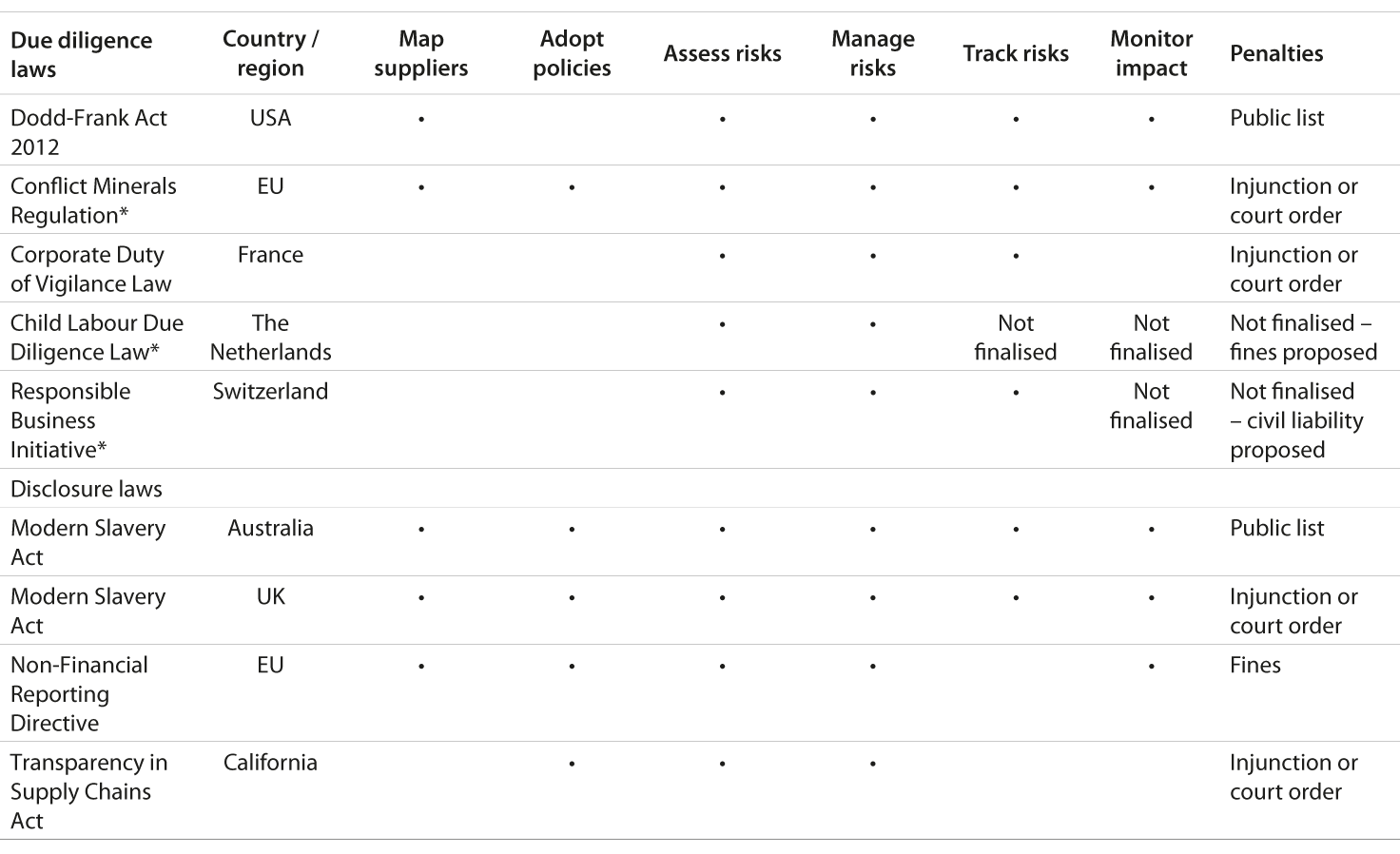 *Not currently in effect
Source: Adapted from Verisk Maplecroft (2018), Aberdeen Standard Investments
Costs and benefits for companies
For many companies, compliance with the new requirements will necessitate material operational and disclosure changes. This inevitably comes with costs, but the benefits should not be overlooked. A robust approach to ensuring respect for human rights will help companies to avoid potential legal penalties. But it will also offer competitive advantages by smoothing operations in complex environments, increasing supply chain productivity and protecting brand value.
While the laws mentioned in this article are all within developed countries, many of the laws target large multinationals and they have a strong focus on supply chains. As a result, the impact should ripple into other parts of the world – ideally raising standards across regions and facilitating the promotion and enjoyment of human rights globally. However, the success of these efforts depends on how rigorously the laws are enforced, and it is still early days for many of them. We are encouraged by the action taken thus far and we are optimistic about further progress. We will be closely watching the response of regulators and the companies in which we invest.
Summary
Emerging corporate human rights laws demonstrate a new way of thinking. They are moving away from backward-looking assessments of liability towards demanding proactive approaches that prevent harm. This could result in meaningful change, improving standards globally, while offering competitive advantages to businesses. We are cautiously optimistic as the success of these initiatives depends on rigorous enforcement of the new laws.
---
1
Such as the Global Reporting Initiative (GRI) and ISO 26000
References
United Nations (2018). The Sustainable Development Goals Report 2018 [Online]. New York, United Nations. Available at
https://www.un.org/development/desa/publications/the-sustainable-development-goals-report-2018.html
(Accessed 4 December 2018). Langlois, M. (2017). Human Rights Reporting: Are Companies Telling Investors What They Need to Know? [Online]. New York, Shift. Available at
https://www.shiftproject.org/resources/publications/corporate-human-rights-reporting-maturity/
(Accessed 2 December 2018). Verisk Maplecroft (2018). 'Human rights compliance: A common approach is emerging,' Verisk Maplecroft, 12 August 2018 [Online]. Available at
https://www.maplecroft.com/insights/analysis/human-rights-compliance-a-common-approach-is-emerging/
(Accessed 7 February 2019).
Being an active participant in shareholder votes is an important part of an asset manager's fiduciary responsibility