Why is sustainability important?
There are significant challenges facing the world today. The first is climate change. Many people around the world will have witnessed, or experienced at first hand, the effects of rising temperatures. Societies are counting the human and financial costs of higher sea levels and extreme weather events. The second is rising social inequality – the growing gap between the world's 'haves and have-nots'. This has led to widespread anger that, in some cases, has unleashed social and political upheaval. The third is the fact that we are consuming resources at an unprecedented rate. People are depleting the world's natural resources that cannot be easily replaced – if these resources can be replaced at all. These problems will only get worse if we do not act. The Covid-19 pandemic has raised urgent questions about how people interact with nature and how human food production is managed.
UN Sustainable Development Goals
Most countries have acknowledged the need to act. One hundred and ninety three countries adopted the UN Sustainable Development Goals (SDGs) in September 2015. There are 17 SDGs (see chart) that, collectively, make up 169 individual targets. These goals provide guidance to governments, companies and civil society on how to identify and pursue sustainable development priorities. The SDGs will likely guide public policy and private sector capital allocation until at least 2030.
Chart 1 – UN Sustainable Development Goals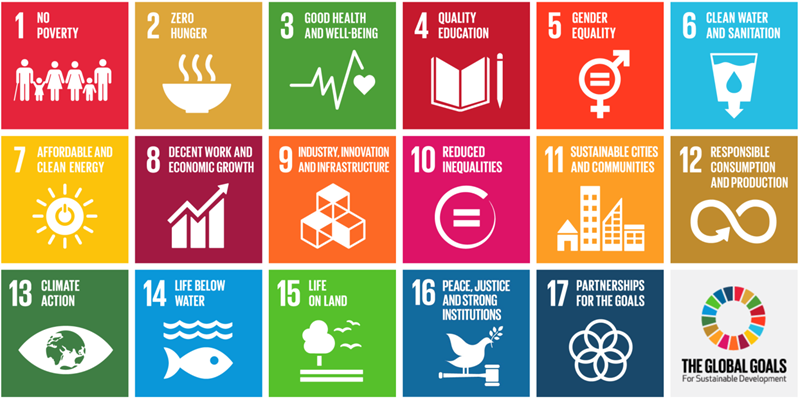 Source: United Nations, 17 Sustainable Development Goals (SDGs)
The UN's sustainable development goals are ambitious. Estimates of the investment needed range from some US$5 trillion to US$7 trillion per year.1 These goals can only be achieved through partnerships between governments and the private sector. Global asset managers – with more than US$80 trillion of assets under management2 – have an important role to play.
Paris agreement
Most countries accept that decades of burning fossil fuels harmed the environment. Greenhouse gas emissions in the atmosphere, linked to oil and coal consumption, are a major cause of rising temperatures around the world. In 2015, more than 180 countries committed to the Paris agreement, which was signed at the 21st UN Conference of the Parties (COP 21) in Paris, France. This is the world's most significant international climate treaty. Signatories agree on the need to restrict future temperature rises to 'well below' 2°C from pre-industrial levels, in order to limit environmental and economic damage.
UN Principles for Responsible Investment
The Principles for Responsible Investment (PRI) is another United Nations-supported initiative. Asset owners and asset managers around the world have an important role to play in supporting sustainability. The principles were designed to promote responsible investment as a way of enhancing returns and managing risk. They encourage institutional investors to pursue and demonstrate action across four areas: investments, corporate engagement, investor disclosure, and policy advocacy.
Why should investors care?
Environmental, social and governance (ESG) analysis needs to be an integral part of all investment decisions.
Responsible investing that channels private capital into sustainable investment strategies is no longer something that is just 'nice to have'. Environmental, social and governance (ESG) analysis needs to be an integral part of all investment decisions. Younger generations of investors don't want to see society and the environment damaged beyond repair because of their investments. They want to see something that generates a positive outcome and a financial return.
Technology is a game changer. Social media has raised awareness of environmental issues linked to oil and gas companies, of access-to-medicine issues linked to pharmaceutical firms. Business ethics concerns associated with the banking and finance industry have also been in the social media spotlight.
However, finding solutions can't be left to investors alone. Investors need a clear framework in which to operate, so governments need to think about regulations. Civil society must play a role in challenging practices that are unsustainable.
Climate change opportunities
Climate change has significant implications for investors. Companies and economies will likely incur major costs during the transition from fossil fuels to low-carbon energy sources. In addition, there will be significant costs from the increasing physical damage linked to climate change and considerable investment needed to limit this damage.
Investors need to understand how these changes will affect the value of their investments. This involves gaining an in-depth understanding of how each company is exposed to material issues related to climate change and how they will tackle these challenges.
But there are opportunities too. The transition to a low-carbon economy will require large amounts of private capital to construct renewable energy infrastructure, low-carbon transport and improve energy efficiency. Investors will play a critical role in allocating this capital.
There is also a growing need to make businesses, cities and countries more resilient to the effects of climate change. There are significant adaptation opportunities in infrastructure, water and soil management, and technology.
1 UNPRI, Investors and the Sustainable Development Goals, October 2017
2 Aberdeen Standard Investments, Impact Investing – Embracing the UN's Sustainable Development Goals in Investment, February 2018