This research was originally published by Aberdeen Standard Investment in July 2017
Understanding the business cycle forms a critical part of an investor's toolkit. However, cycles are difficult to age with precision and economists have a poor track record of consistently spotting recessions ahead of time. In this edition of Global Horizons, we consider the analytic framework we have developed to approach these difficult issues with more rigour. Our global business cycle indicator helps us map how the cycle has waxed and waned over the past 30 years and provides a signal as to how old the current edition is. Recession probability models for the major economies across a range of time horizons help us better understand how the risk of downturns is shifting over time. Careful monitoring of these tools, alongside our in-house political risk framework and financial stress indicator, should help eliminate some of the uncertainty around where the cycle is headed.
Stylised business cycle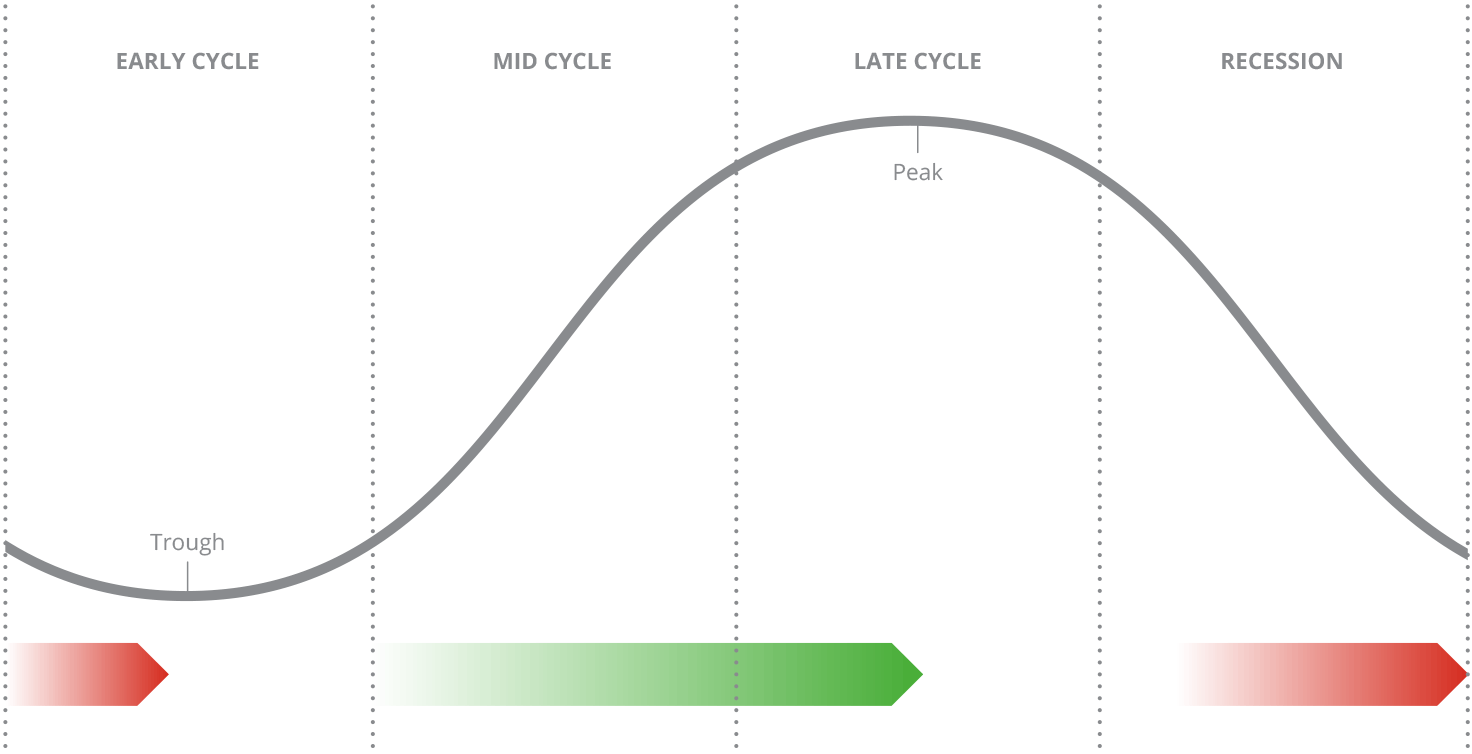 Source: Standard Life Investments
Executive Summary
Understanding whether economies are in the early, middle or later stages of their business cycles is critical for investors. Profit margins, default risk and the shape of the yield curve all wax and wane with the cycle, influencing absolute and relative returns across asset classes.
Because recessions are especially disruptive, and monetary and fiscal space is currently limited, there will be significant benefits to spotting the next downturn ahead of time. However, economists have a poor track record in ageing cycles and even worse in predicting recessions. With this in mind, we have built a more rigorous analytical framework to address these issues.
We start by exploring the characteristics of business cycles, showing that they vary significantly in duration, amplitude and drivers. Although the likelihood of recessions increases as the cycle ages and economic and financial imbalances build, the precise triggers that push economies over the edge differ from cycle to cycle.
To ground our analysis of the cycle empirically, we have created business cycle indicators (BCIs) from a wide range of economic and financial data that provide signals around the maturity of a cycle. Our Global BCI currently suggests that the global economy is close to the middle of its cycle. Although most of the world's largest economies are growing above trend, there are few signs of overheating and aggregate financial imbalances are not yet acute.
Country level indicators also provide useful insights. Our indicators flagged that the Brazilian and Russian cycles were entering their later stages prior to their subsequent recessions. At present, our analysis implies that the US is still close to the middle of its cycle, despite an eight- year upturn. Germany flags as being more advanced than the US, though the fact that the Italian, French and Spanish cycles are much less advanced illustrates the challenges facing the European Central Bank.
Formalising these insights, we have built models that estimate the probability of a recession in most of the major advanced economies over different time horizons. The models raise few false alarms and miss few recessions, even on a two-year horizon, though they work best over shorter horizons when financial market signals are strongest.
At present, our modelling implies that the probability of a recession is low across the major economies on a three-month, one-year and twoyear horizon. This reinforces our conviction that the global economy will grow modestly above trend through this year and next, and that now is a good time for investors to be extending their horizons.
However, this should not provide cause for complacency. While monetary and financial factors are captured well by our framework, geopolitical factors are not. Moreover, as we look further into the future, the model uncertainty naturally rises. These models should therefore be used as a complement to the other tools we use to analyse and monitor the political, policy, financial and economic risks facing the global economy.