It has come to our attention that the current and previous names and brand identities of our companies Aberdeen Standard Investments (Malaysia) Sdn Bhd and Aberdeen Standard Islamic Investments (Malaysia) Sdn Bhd, along with those of affiliated Aberdeen and Aberdeen Standard Investments companies, are being used illegally in the Asia-Pacific region to solicit investments.
We would like to advise members of the public to be wary of websites or individuals purporting to be Aberdeen Standard Investments' representatives and offering fake investment opportunities. Our products are only sold to the general public via our appointed third party distributors which are regulated and licensed by local authorities to engage in such distribution activities. If you would like to invest or require financial advice, please get in touch with our appointed distributors, details of which can find on our website under 'How to invest'.
If you have received communications via telephone, text messages, WhatsApp, Facebook messenger, Facebook sponsored post, or a Facebook page, do not continue the conversation. Our products/ services are not offered in this way. Any third party making such offers has no links with Aberdeen Standard Investments. These are attempts at fraud, the investments being offered will either not exist or in fact be worthless. If something seems too good to be true it often is. We continue to report these incidents to the relevant local regulators and authorities.
In addition, please note that we will NEVER request personal information such as identification number, banking details, credit card details and/or passwords.
Aberdeen Standard Investments will not be responsible for losses that members of the public may suffer as a result of approaches from fraudulent individuals. We reserve the right to take legal action against any parties that infringe our intellectual property rights or associate our identity and trademark with any unlawful activities. Anyone who has been a victim of fraud should immediately seek assistance from their local law enforcement office.
You can verify any communication purporting to come from us at tel: + 60 3 2053 3800 or email:malaysia.clientservices@aberdeenstandard.com
You can read here more detailed information on the Aberdeen Standard Investments global website about investment scams (in English).
Some examples of scams illustrated below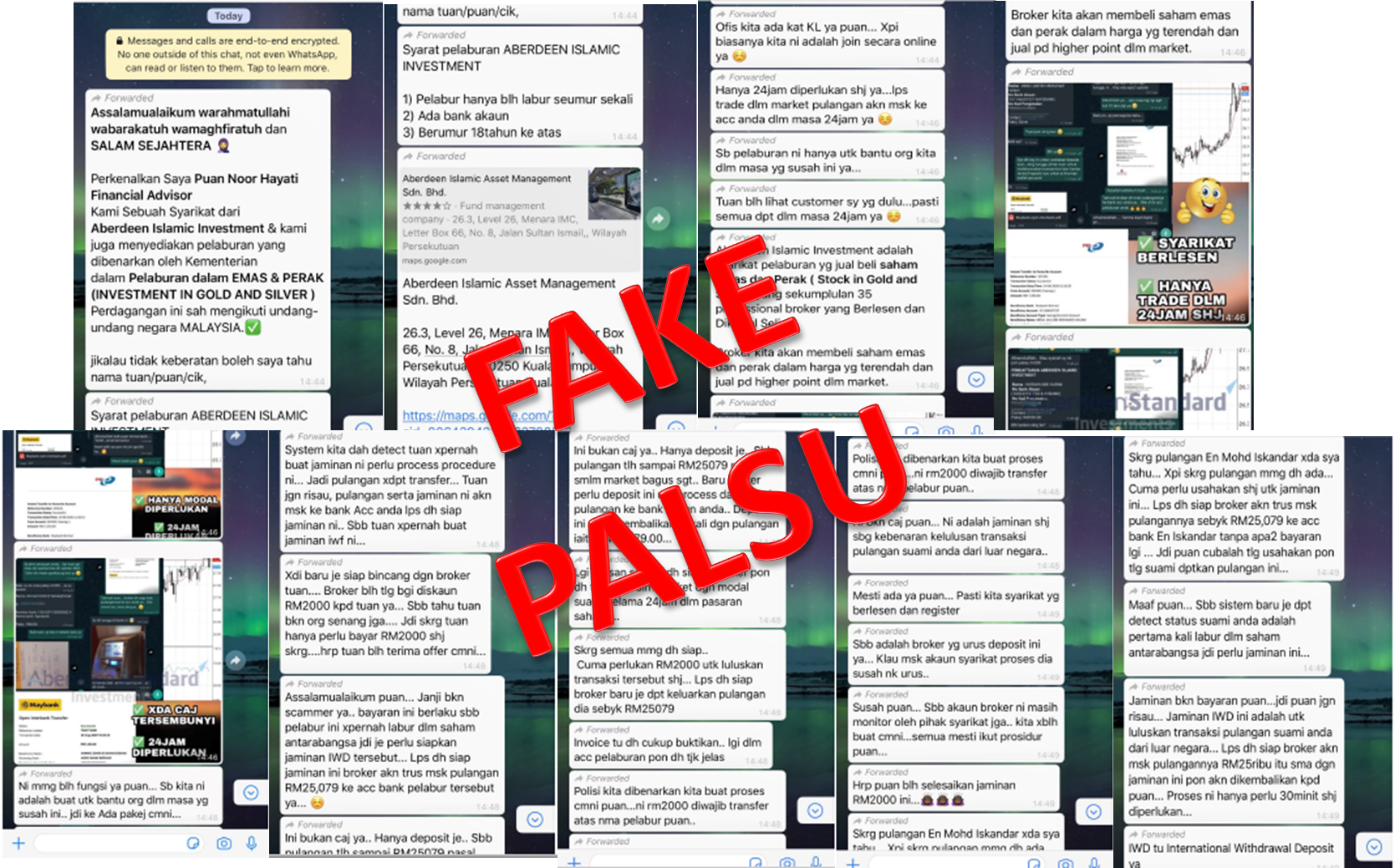 Kami telah mengambil maklum bahawa nama syarikat kami sebelum ini dan juga nama syarikat kami yang terkini, Aberdeen Standard Investments (Malaysia) Sdn Bhd dan Aberdeen Standard Islamic Investments (Malaysia) Sdn Bhd, berserta juga nama-nama syarikat di bawah Aberdeen dan Aberdeen Standard Investments, telah digunakan secara tidak sah oleh pihak-pihak tertentu di rantau Asia-Pasifik khususnya, untuk membuat penawaran dalam pelaburan.
Kami meminta pihak umum supaya berhati-hati dengan laman sesawang atau individu yang mengaku sebagai wakil kepada Aberdeen Standard Investments yang menawarkan peluang pelaburan yang palsu. Produk kami dijual kepada pihak umum hanya melalui pihak ketiga iaitu pengedar yang berdaftar dan dilesenkan oleh pihak berkuasa yang membenarkan aktiviti jualan tersebut. Sekiranya anda ingin melabur atau memerlukan nasihat kewangan, sila hubungi pihak pengedar sah kami yang telah dilantik, yang mana maklumat pengedar kami ini boleh didapati di laman sesawang kami di bawah "How to invest".
Sekiranya anda ada menerima komunikasi melalui panggilan telefon, pesanan ringkas, Whatsapp, Facebook messenger, pos Facebook yang ditaja, atau halaman Facebook yang menyerupai seperti yang dinyatakan di atas, sila hentikan sebarang komunikasi dengan penyamar tersebut. Sila ambil maklum bahawa syarikat kami tidak pernah menawarkan produk/servis kami melalui kaedah yang tersebut. Aberdeen Standard Investments tidak mempunyai sebarang kaitan dengan pihak yang menawarkan produk/servis seperti yang telah dinyatakan. Ia adalah merupakan cubaan untuk melakukan penipuan, dan pelaburan yang ditawarkan sebenarnya tidak wujud. Adalah tidak munasabah apabila sesuatu pelaburan yang rendah dapat memberi atau menjamin pulangan yang tinggi dalam masa yang singkat. Syarikat kami telah pun melaporkan perkara tersebut kepada pihak penguatkuasa dan pihak berkuasa yang berkaitan.
Sila harap maklum bahawa Aberdeen Standard Investments TIDAK AKAN meminta maklumat peribadi perbankan anda, seperti nombor kad pengenalan, butiran akaun bank, butiran kad kredit dan/atau kata laluan peribadi.
Aberdeen Standard Investments tidak akan bertanggungjawab terhadap sebarang kerugian yang anda alami dari pelaburan paslu tersebut. Syarikat juga tidak akan teragak-agak untuk mengambil tindakan undang-undang kepada pihak yang melanggar hak-hak intelektual Syarikat dan syarikat bersekutu kami, identiti dan tanda dagangan kami dengan sebarang aktiviti yang melanggar undang-undang. Sekiranya anda menjadi mangsa penipuan tersebut, sila dapatkan bantuan guaman dari pihak penguatkuasa yang berkaitan.
Untuk sebarang tujuan pengesahan, anda boleh hubungi kami di talian: + 60 3 2053 3800 atau email: malaysia.clientservices@aberdeenstandard.com
Untuk mendapatkan maklumat lanjut berkenaan pelaburan penipuan (dalam Bahasa Inggeris) anda boleh layari laman sesawang global Aberdeen Standard Investments.
Berikut adalah beberapa contoh pelaburan penipuan (scam)