Each MyFolio fund targets the highest total return achievable for your chosen level of risk. To achieve this, our process contains four key steps.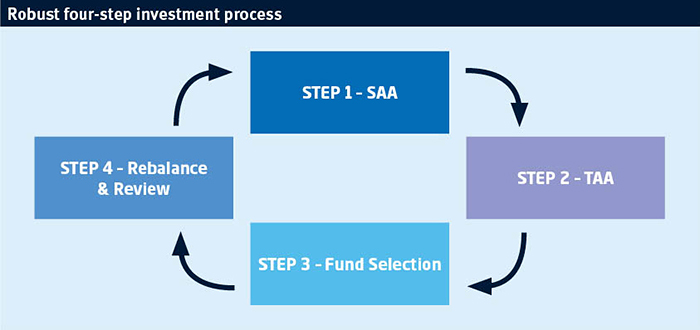 1. Strategic asset allocation
Choosing the right mix of assets for the risk you want to take. We seek to create the most efficient mix of assets that will help deliver the best possible return for each risk level. In doing so, we work closely with Moody's Analytics, world-leading experts in risk modelling solutions. This process helps us build the most efficient long-term asset allocation mix that we expect to generate the highest returns for each level of risk.
2. Tactical asset allocation overlay
Deciding which of those asset classes to favour over the shorter term. While step 1 forms our long-term asset mix, we can fine-tune the allocation to take advantage of shorter-term investment opportunities. In doing so, we can increase exposure to those markets we favour and reduce exposure to those in which we have less conviction. This step is carried out by Aberdeen Standard Investments' highly experienced multi-asset investing team.
3. Fund selection and portfolio construction
Choosing the right funds to fill the asset class buckets and optimally blending those funds. Next, we select the best blend of individual funds that go into each MyFolio portfolio. In doing so, we narrow down the available fund range to find funds that we believe have the best return potential while meeting our strict selection criteria. We then assess each fund to identify the potential for delivering the best risk adjusted performance.
4. Rebalancing and review
Ensuring the portfolios are meeting risk and return expectations. The final step in our process is to ensure the MyFolio funds continue to deliver the right risk and return outcomes for investors. To achieve this, we regularly rebalance each portfolio back to the step 1 – tactical asset allocation – and undertake regular portfolio reviews. We also review each underlying fund we hold and visit management teams to ensure they continue to meet our rigorous selection requirements, swiftly replacing any fund that is no longer suitable.
We also operate a comprehensive investment risk and governance process to audit decision making, ensuring the investment team adhere to the MyFolio investment guidelines and deliver risk and return in line with expectations.
Risk warning

Risk warning - Investment involves risk. The value of investments, and the income from them, can go down as well as up and an investor may get back less than the amount invested. Past performance is not a guide to future results.