Tactical Asset Allocation (TAA)
The Multi-Asset team's view on bonds, equities, commercial property and other assets will affect asset allocation over the coming months. When making these asset-allocation decisions, we first consider the outlook for each asset class (e.g. government bonds), followed by views within that market (e.g. the US versus Europe, or European core economies against peripheral countries). The views of individual asset class teams may differ to this multi-asset view.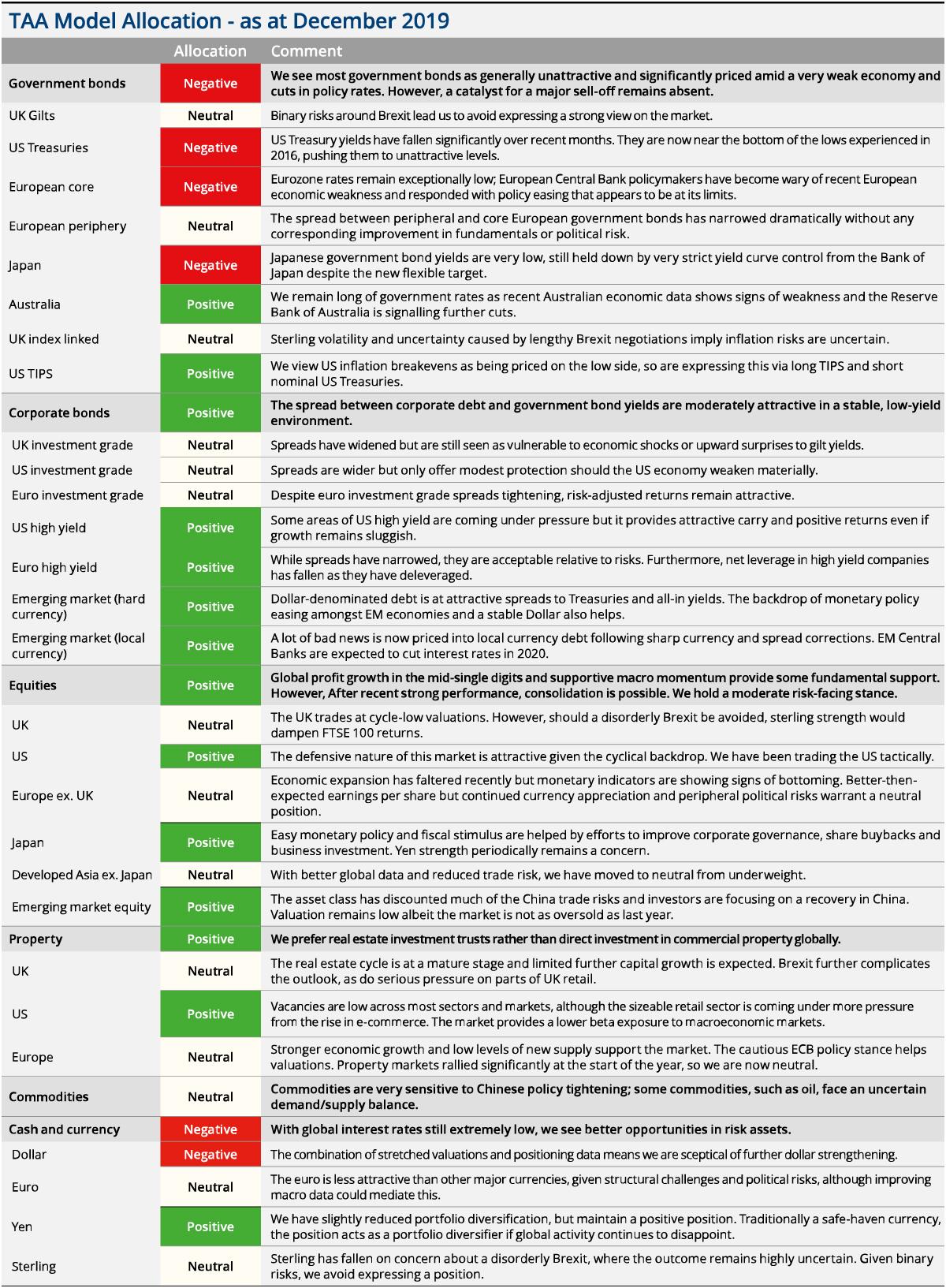 Foreword
Author
As the calendar year ends, it is customary to look ahead to what the New Year might hold. In this edition of Global Outlook, we summarise the latest thoughts from our quarterly Global investment Group process, but also demonstrate how successful investment conclusions requires a combination of top down decision making, the right investment vehicle and more granular calls on the correct investment.
Each quarter we hold a Global Investment Group, chaired by Keith Skeoch, our chief executive officer. This is the opportunity for senior fund managers from across the business to debate and make decisions upon our views about the medium term investment outlook. The conclusions from our latest meeting are summarised in our Spotlight article.
The central case is for moderate economic growth and low inflation to be sustained into 2021, helped by easy monetary and easier fiscal policy in the major economies. There are risks – political, geopolitical, financial or climate-related – but we see these as relatively balanced. On this basis, the guidance for fund managers is to take on more risk or tracking error in portfolios. In particular, we are looking for less favoured assets such as parts of the emerging market universe, or for yield opportunities, for example in global real estate.
One way in which investors have sought higher returns and greater diversification in recent years is via less liquid assets. These encompass a varied array of items including, for example, infrastructure, asset-backed securities, and music royalties. One area of concern is a possible liquidity mismatch: in effect, could losses be suffered if a fund manager suffered large redemptions? Mike Brooks, Head of Diversified Multi-Asset Funds, provides a solution. He explains how the listed alternatives market provides a way of gaining access to these potentially attractive investments.
In terms of the correct investments to hold in a portfolio, the technology sector provides much growth potential, yet valuations can be daunting. Andy Brown, Investment Director in the Global Equities team, asks – and answers – the question: "How does one best invest in tech stocks?". He emphasises that tech opportunities have now spread across a wide array of sectors within the stock market. However, he warns that there are signs that investors are no longer as willing to give the benefit of the doubt to unprofitable tech companies.
Other investors are looking for yield rather than growth outcomes. Fixed Maturity Products – closed-end fixed income investment funds that aim to offer capital preservation plus a target return over the life of the fund – are becoming more popular, especially in Asia. Paul Lukaszewski, Head of Corporate Debt, Asia & Australia, describes how such products work and especially how various risks – credit, market, re-investment – can best be managed to meet the clients' needs.
'What to invest in' needs to stand alongside another question, 'how to invest'. Two articles explore these issues. Firstly, Dr. Jens Kroeske, Guillaume Delprat and Owen McCrossan from the Multi-Asset Risk Modelling team, examine how systematic strategies can help with the search for returns in the fixed income universe. Despite the growing pressures of 'Japanification' in many countries, creating an environment of persistently low inflation and interest rates, lower bond yields and lower yield expectations, so understanding and exploiting the degree of dispersion of different yield curves can generate excess returns.
Environmental, social and governance (ESG) factors are firmly embedded Into the investment process at ASI, backed up with a large group of dedicated analysts. Mike Everett, Stewardship Director, explains how we are taking on the responsibility for allocating our clients' capital in order to deliver important economic and social changes, most significantly the transition to a low carbon global economy. One problem, however, is the plethora of codes and standards in each country; this means that it would be preferable for policy makers, standard setters, asset managers and key investors to work together to use the existing frameworks better. Working and communicating effectively together to make better investment decisions is the conclusion not only of this specific area of investing, but across ASI as a whole.
Download PDF
Cyclical investing

Chapter 1
Author
Time horizons are starting to matter even more for investors. In the short term the improvement in the economic cycle is a positive feature, but end-of-cycle pressures are growing.economy and markets.
We cannot rest on our laurels
Looking back over the calendar year 2019, the optimal asset allocation for an investor would have comprised an overweight position in both global equities, especially the US, and global government bonds, especially European. These positions would be financed by a sizeable underweight position in cash. We were correct in our view that a global recession would be avoided, but we were surprised by the extent of the economic pain and the hit to investor confidence caused by the disagreements between the US and its trading partners, particularly China. Hence, interest rate expectations changed significantly during 2019 as policy makers realised the need for an easier stance to prevent a manufacturing sector recession morphing into something more dangerous.
As 2020 approaches, it is useful to examine the outlook for financial markets using two metrics: time scales and fundamental drivers. Analysis of the state of the economy, of policy making, of valuations and investor positioning can all assist with successful portfolio construction.
For much of 2019, portfolio managers were looking for diversifiers which could protect portfolios during more volatile periods.
The key question for 2020-21 remains. Is a period of slow growth the precursor to a recession in any of the major regions? We do not think so. Some leading indicators may flash amber warning lights. However, so far, cost-cutting in the manufacturing sector looks insufficient to offset continued employment growth from services. This, in turn, supports underlying consumer spending. Weak business investment and trade growth in 2019 is expected to look modestly better into 2020. Corporate signals about the smartphone, semiconductor and 5G broadband cycles are helpful in this regard.
Turning to policy making, we have seen a good deal of monetary easing of recent months. Now, however, the baton is being passed towards fiscal policy. Plans are afoot for spending increases or tax cuts in China, Europe, the UK, and especially Japan (see Chart 1). The net effect may still be moderate as it takes time to boost infrastructure spending. Together with at least a truce in the trade war, though, consumer and corporate spending should be supported. The coming year remains one of some risk; our models of recession probability are closer to 20-25% over 12 months but 35-40% over 24 months (see Chart 2). This timescale could tie with any major changes in policy making after the US Presidential election – for example, a greater regulatory burden on the tech sector.
Chart 1: Governments Can Deploy Fiscal Firepower
Source: IMF, Haver, Aberdeen Standard Investments (as of November 2019)
Forecasts are offered as opinion and are not reflective of potential performance.
Forecasts are not guaranteed and actual events or results may differ materially.
As the investment cycle lengthens, so market valuations become ever more important. The difficulty facing any investor with a historical viewpoint is the impact of quantitative easing and negative interest rates. This is a completely new phenomenon compared with the previous century of investment experience. On an absolute basis, most fixed income assets look overly expensive and most equity market valuations are between rich and fair value. A future profits recession is not priced in at all. On a relative basis, though, as long as corporate profits growth remains positive and company balance sheets do not come under undue stress (which is our base case), the gap between dividend yields and government bond yields remains attractive (see Chart 3). The same case can be made for higher-yielding and investment-grade corporate debt. There is already a wall of money shifting from low-yielding cash into corporate debt. Great care must be taken, however. There are amber warning lights in relation to shale producers and auto loans in the US, for example, although we are reassured by the deleveraging steps being taken by some of the mega issuers.
Chart 2: Risks of Recession
Source: Bloomberg, Thomson Reuters Datastream, Aberdeen Standard Investments (as of Sept 2019)
Chart 3: Gap Between Equity Market Dividend Yields and Government Bond Yields
Source: Bloomberg, Thomson Reuters Datastream (as of Dec 2019)
The warning for investors is that a paradigm shift – one in which valuation metrics are front of mind – is a common feature of the adjustment to a slow growth period or a recessionary environment. In this regard, we continue to find the research underpinning our strategic asset allocation analysis very useful. The combinations of valuations plus demographic and productivity trends continues to suggest that the medium-term outlook for most asset prices is a world of low numbers.
The last set of drivers to examine is important for cyclical investing. When the macro momentum indicators are turning more positive, the sweet spot for dynamic asset allocation is cheap value and under-owned assets. We have seen this in a number of markets and sectors during the autumn, helped by a reassessment of economic and political risks. After a period of sizeable outflows from emerging market and especially European equities, recent weeks have shown a marked change in cross-border capital flows. At the same time, flows into higher-yielding assets have increased. This is quite understandable in a world where over 25% of government bonds face negative yields, European households are facing negative returns from bank deposits, and central banks have confirmed that they will take on the role of borrower of last resort.
Fault lines
Although the economic forecasts are looking more solid, at our recent Global Investment Group meeting we considered a number of alternative scenarios. Many were on the negative side – the risks of a late-cycle rise in inflation, of a full-blown trade war, of a financial crisis in China or Europe, or undue tightening of financial conditions in the US. Some scenarios were more upbeat: a cohesive fiscal boost, or a major reduction in trade tensions. On balance we see the risks as more evenly balanced than we did in the summer.
There are a number of other issues which – individually or collectively – could affect investor sentiment. On the political front, the most important will be the result of the US Presidential election in November 2020. Depending on the successful candidate, there could be sizeable changes in the worlds of trade, technology regulation, health costs and the relationship with China. We see any agreement on trade between the US and China as simply a truce in a long-standing competition for top power status. Continued strategic rivalry between the US and China dampens overall business confidence and is encouraging many firms to move production capacity from China to other countries. Other political fault lines to monitor include the situation in Hong Kong (as it is a major centre for regional finance); the tensions in the Middle East (always significant for energy costs); and Brexit uncertainty.
Some issues particularly relate to the corporate sector. On a national accounts basis the ratio of profits to GDP in the US peaked several years ago. The key issue is whether a margins squeeze for S&P500 stocks, especially for the 'growth' related basket, can be delayed into 2021-22 due to enhanced productivity growth. Our models only suggest 0-5% pa profits growth in 2020. The recent spate of failed initial public offerings, especially in the tech sector, demonstrates how at current valuations actual cash flow rather than promised profits does matter. Even in a world of very low interest rates, the availability of credit is important. Senior loan officer surveys in the US and Europe found that certain parts of the corporate sector and, indeed, the low-income consumer sectors, are finding it more difficult to borrow. In China, the central bank has issued strong warnings about the impact of a doubling of household debt since 2012, while 13% of banks are considered to be at high risk. In the US, CCC rated corporate debt has been under pressure for some months on debt servicing and default concerns, especially energy-related. On balance, all this explains why we are looking for more moderate returns in 2020 than in 2019, and why we would not be surprised if markets were to experience bouts of volatility more similar to 2018 than to 2019.
Investment Strategy for 2020-21
Global equities remain the core of our portfolios. In view of the economic, corporate and political risks, the emphasis is on quality balance sheets. Future earnings growth is the primary driver of our regional choice; hence the funds are overweight in the US, Japanese and emerging market equity, while neutral to underweight European and UK equities despite their more favourable relative valuations. Real estate is useful in the form of real estate investment trusts (REITs) due to its equity-like characteristics in many markets. Prospects would be even better if investors lengthened their time horizons or alternatively accepted illiquidity risk as compensation for higher yields.
The choice of fixed income instruments to include in a portfolio largely reflects valuations, such as yield spreads versus history. However, it also reflects the political backdrop and the state of company balance sheets and capital account positions. On that basis, few government bond markets look attractive. One exception is Australia, where there are opportunities for rate cuts. Although at face value higher-yielding bonds would enable stronger returns than investment grade debt, we are wary because of the higher risks involved. Rising corporate leverage is classically a precursor to rising bond defaults. Hence, we prefer to hold a broadly neutral duration position via a combination of investment-grade debt and inflation-linked bonds; these also have the potential upside of protection if there are late-cycle inflation pressures. Although there are some problem countries in the emerging market debt universe, such issues are well understood and generally already taken into account in valuations. Hence, our portfolios are overweight in emerging market debt, local and hard currency.
For much of 2019, portfolio managers were looking for diversifiers which could protect portfolios during more volatile periods. Examples have included the Japanese yen or US Treasury Inflation-Protected Securities (TIPS). On a cyclical basis, there will undoubtedly be periods of heightened volatility in markets in the coming year. However, on balance funds have increased their exposure to equities and reduced the diversifiers in recent weeks. We have also seen a dynamic approach to investing in the absolute return funds, which have followed a similar path.
Currency volatility has not been high during 2019. Indeed, 2011 and 2016 were the last periods of heightened currency movement. On balance, we expect to see a moderate weakening in the US dollar in the coming year. This is partly due to the relative expansion of central bank balance sheets, and partly as rising investor confidence encourages more investment in non-US assets. However, currency positions are not a significant part of the house view portfolio.
A diversified portfolio makes sense, taking advantage of a range of risk premia – equity, illiquidity or duration. The key decision for investors is what time scale they are investing over. Just as in 2019, a complicated mix of economic, corporate and political signals will create short-term buying and selling opportunities. The type of exposure to any asset class, and how to deploy cash to take advantage of short-lived investment opportunities, will be important matters. Looking further ahead, there is growing evidence that this environment is late cycle in investment terms. Hence strategic asset allocation decisions will become more important – what assets look best placed to survive a downturn, or to provide reasonable returns despite any short-lived pressures in the form of dividend cuts or bond defaults. Long term value looks more attractive in many private assets. In summary a combination of tactical and strategic thinking with a solid research base should provide the foundation for strong investment returns.
For much of 2019, portfolio managers were looking for diversifiers which could protect portfolios during more volatile periods.
Listed alternatives

Chapter 2
Author
Alternative investments can be key to multi-asset strategies looking to deliver diversification. The listed alternatives market provides a way of accessing these attractive diversifiers within daily dealt UCITS portfolios without a liquidity mismatch.
Bridging a gap
The demise of Woodford Investment Management has been one of this year's biggest investment management news stories. As was widely reported, one of the key issues the company faced was a liquidity mismatch in its funds. In simple terms, these held a number of assets that were not daily traded. When the funds suffered large redemptions, they could not be easily realised, making the situation worse. The Woodford story highlights the challenges of trying to get exposure to attractive alternative investments within daily dealt portfolios.
Listed alternatives can perform very differently to traditional assets
The listed alternatives market helps to bridge this gap. It gives investors access to a range of alternative asset classes with attractive return prospects and significant diversification benefits but with daily dealing.
What are listed alternatives?
Many investors are familiar with Real Estate Investment Trusts (REITs). These exist in over 30 countries, letting investors access less liquid real estate through a tradable equity structure. Today, REITs are the most popular form of listed real estate investment, with a global market capitalisation of over $1 trillion. The listed alternatives market is broader, however. It refers to investment trusts that invest in non-traditional asset classes. Investment trusts came into existence more than 150 years ago, when they were first launched on the UK stock market. Back then, they focused on what were deemed to be the emerging markets of the day, but the market has since expanded. This growth has been marked over the past twenty years, and now there are investment trusts that invest in a wide range of alternative asset classes. They include:
A broad range of infrastructure investments. Initially, these were social infrastructure assets, such as schools and hospitals. In recent years, however, it has expanded to include renewable assets such as wind and solar farms.
Alternative property investments such as social housing, student accommodation, distribution centres and residential property.
Debt investment such as loans, asset-backed securities and direct lending.
Specialist investments such as insurance-linked securities, litigation finance, healthcare royalties, music royalties, aircraft leasing and shipping.
Investment trusts and REITs share four common characteristics that help explain their continued relevance:
1. Company structure
They are public companies with a board of directors that is accountable to shareholders. This governance structure means that the board can hire managers to implement investment strategy, and fire them if they fail to deliver.
2. Permanent capital
This structure provides the company with 'permanent capital', enabling the companies to invest in less liquid investments. Such a set-up also gives shareholders the ability to wind up the company, should they act collectively to do so.
3.Exchange traded
After the initial launch, investors can add or reduce their holdings by buying or selling shares in the trust on a stock exchange. The share price can deviate from the underlying asset value, ie there is a discount or premium. The company has the option to issue new shares and the board can choose to buy back shares.
4. Suitable for UCITS-regulated vehicles
This structure enables managers of UCITS-regulated funds to access alternative assets that they cannot invest in directly.
How listed alternatives help investors to diversify
Listed alternatives can perform very differently to traditional assets, making them an important source of diversification benefits for multi-asset portfolios.
Over the long-term, the performance of any investment company is driven by the underlying cash flows generated by its investments. This is true regardless of whether those investments are, for example, commercial properties, wind farms or specialist credit assets. Some of these asset classes are naturally more economically sensitive than others. Indeed, a key advantage of renewable infrastructure, for instance, is the lack of correlation between its returns and those produced by other financial markets. Large, global REITS, by contrast, are typically more sensitive to the health of the world economy and are naturally more sensitive to slowing growth.
Another of the ways in which listed alternatives differ from REITs is that they do not typically feature in the portfolios of mainstream equity investors. As such, they are less likely to be caught in indiscriminate market sell-offs. The listed alternatives universe has fared well historically at times of market stress. During periods when equities have fallen significantly, most saw either positive returns or only modest falls. Between April 2015 and February 2016, for example, global equities fell by 17.3%. Over this period, the average return of listed alternative companies was +2.9% (see Chart 1).
Chart 1: Alternative assets performance in equity market correction
Source: Aberdeen Standard Investments, Bloomberg, MSCI, May 2019. Past performance is not a guide to future results.
Previously, alternative assets were the domain of the world's largest investors. That the 'average' investor now has access to this market can only help to build genuinely diversified portfolios. What's more, the listed format lets them buy or sell the assets at short notice, an important option in today's investment environment.
Listed alternatives can perform very differently to traditional assets
Japanification and
systematic strategies
Chapter 3
Authors
Systematic strategies are not necessarily affected by low interest rates or flat yield curves, effects often associated with 'Japanification'. Nevertheless, they still need to be actively monitored to make sure return drivers are intact.
Searching for returns in fixed income
Interest rates across the globe have declined further during 2019. This means some investors have become worried about potential future investment returns in a world of permanently low inflation and interest rates. Why do low rates present such a challenge to investors? Put simply, the lower the yield, the more investors typically need to save to achieve their objectives or meet their liabilities. Lower cash rates and the expectation of a continuation of lower cash rates progressively affect bonds with longer maturities. Investors have traditionally expected such bonds to pick up some additional yield as a reward for taking on greater risk, such as inflation or liquidity risk.
Investors have become worried about potential future returns
To quantify this additional reward, it is typical to measure the difference between government bond yields at longer and shorter maturities, for example using the 10- and two-year points (commonly known as the shape or slope of the yield curve). The slope is particularly important for unfunded exposures. This is because the opportunity cost of holding cash relative to longer-term yields matters more for such investors. In other words, a negative but upward sloping yield curve will still generate positive 'carry and roll', ie the amount earned on an unfunded position if the term structure of interest rates does not change.
Perhaps more worryingly, the average slope – or steepness – across bond markets has also declined significantly in 2019. In the US, it even turned negative in August 2019. However, the relative flatness of global curves is not unprecedented. Current levels are similar to the levels seen in 2007, 2000 and 1991. Without speculating on the likelihood and timing of a reversal of these effects, it is still worth asking how a lack of reversal might affect investment returns and the opportunity set for asset managers.
Assessing the impact of Japanification
The 'Japanification' of an economy takes place in an environment of persistently low inflation and interest rates, lower bond yields and lower yield expectations. This has the effect of reducing carry and roll for both long-only and unfunded fixed income investors. However, investment returns can be higher for those investors able to access a wider universe of active or systematic investment strategies.
A simple strategy is to rank fixed income markets by the amount of carry and roll available, at a particular point in the term structure. The manager can then overweight the top markets and underweight the bottom markets through interest rate swaps or bond futures. The strategy exploits the empirical finding that rates tend to persist rather than move according to the forward curve, and also benefits from the available dispersion in rates markets.
As an unfunded relative value strategy, the absolute level of yields across markets patently does not matter. In addition, as Chart 1 shows, such a strategy has historically generated positive excess returns irrespective of the 'average' steepness of the term structures in the investment universe. Chart 1 shows the decile plot of excess returns on this long/short investment strategy, conditional on and ordered by the average steepness of curves. The average steepness is divided into ten deciles, i.e. the left-hand dark-blue bar corresponds to the average return of the investment strategy when the steepness was in the bottom 10% historically and the right-hand bar corresponds to the top 10%. This demonstrates no distinctive pattern of returns, suggesting a lack of sensitivity to average steepness. Indeed, the advent of negative interest rates can actually create additional room for return generation. For example, the Eurozone market recently offered one of the steepest yield curves, whilst having one of the lowest levels of yields globally.
Chart 1: Searching for Returns - Carry vs Yield
Source: Bloomberg, Thomson Reuters Datastream, Aberdeen Standrd Investments
(as of Sept 2019). Hypothetical portfolio used for illustrative purposes only.
Not representative of any Aberdeen Standard Investments, Inc. products'
Chart 1 shows the decile plot of excess returns of a systematic fixed income strategy ordered by the average steepness of global (US, Canada, UK, Germany, Switzerland, Sweden, Japan, Australia) interest rate curves using data from April 1991.
Markets are adaptive systems
While the back-tested and live performance of such systematic strategy looks attractive, we do not believe that any investment rules will generate excess returns irrespective of the market structure or environment. We therefore suggest that experienced investors need to monitor continuously whether important return drivers are still intact.
For example, Chart 2 also shows the level of dispersion of curves across markets, defined here as the maximum steepness less the minimum steepness. This could be interpreted as the 'signal strength' for the strategy explained above. After all, markets are ranked by the steepness of their curves and this ranking will become spurious as the shape of curves becomes increasingly similar. In such an instance, we would recommend exiting an investment strategy such as this.
Chart 2: Japanification: Varying Steepness
Source: Bloomberg, Thomson Reuters Datastream, Aberdeen Standrd Investments
(as of Sept 2019). Hypothetical portfolio used for illustrative purposes only.
Not representative of any Aberdeen Standard Investments, Inc. products'
Chart 2 shows the dispersion in steepness of global interest rate curves, using the same universe and time frame.
To conclude, we accept that there is a potential for 'Japanification' globally to affect dispersion, if many countries head in the same direction, driven by similar effects like demographics. However, even in this case, it is likely to take many years to evolve as different countries are on very different parts of that trajectory. In our current environment and regime, dispersion is likely to exist for some time and can be exploited in a systematic way.
Investors have become worried about potential future returns
May the force be with you

Chapter 4
Author
Technology is a challenging sector to invest in, primarily because it is both an ongoing and never-ending force of change as well as a sector with a limited number of companies to invest in.
Technology as a force
Many periods of history can be defined by the impact of technological change intertwined with institutional developments and economic growth. For example, anyone living through the roaring 1920s experienced the benefits from the mass-production of automobiles. Someone born in the UK in 1770s would have witnessed the mechanisation of the cotton industry. Even further back in time, the advent of the printing press had such widespread effects as democratising knowledge, giving people a voice, leading to manifest changes in how society was structured, with governments increasingly held to account.
Over the last 10 years IT stocks have outperformed the broader equity market
These three examples are instances of general purpose technologies that share three common traits: they affected (large) swathes of the economy; they led to lower unit cost structures for the users of the technology; and they offered a step change in competitive advantage. The Internet is a recent example. A distinguishing feature of the earlier technologies was it enabled a lower marginal cost of production. However, the Internet, especially when combined with the more recent development of cloud computing, has also drastically lowered fixed costs. In many cases, this reduces the barrier to entry for new competitors, as shown by the rise of new brands which gained scale through on-line retail for example.
By placing a greater premium on the discovery of information, rather than its' distribution, the Internet has elevated the great aggregators of our time – companies such as Facebook, Alphabet (Google's parent), Tencent, Alibaba and Amazon. For many of these firms, the regulatory outlook is opaque in the US and Europe, something not inconsistent with previous periods of technological deployment. While the major gains are likely behind us, we believe the outlook for these businesses remains good, and they will continue to generate strong returns on capital – a key measure for asset-light businesses.
How does one best invest in such technology stocks? An important point to note is that many of the recent winners are not solely in the information technology (IT) sector. Alphabet, Facebook and Tencent are classed as communications services companies by index provider MSCI, while Alibaba and Amazon are in the consumer discretionary sector. This reflects the fact that technology has become a competitive advantage.
Information technology in detail
Despite the ubiquitous nature of general purpose technologies, the IT sector itself (as defined by MSCI) is composed of three distinct sub-sectors: software & services, technology hardware & equipment and semiconductors & semiconductor equipment. These subsectors includes some of the world's most well-known and highly valued companies, such as Microsoft (software), Apple (hardware) and Intel (semiconductors). Over the last 10 years IT stocks have out performed the broader equity market (as measured by MSCI All Country World Index – MSCI ACWI) by approximately 6% a year, on average Investors have been attracted by their positive and improving returns on capital, strong balance sheets and superior growth opportunities. Despite recent concerns about supply chain disruption tied to the trade war, the index is up 37% year-to-date, against 22% for the global index (MSCI ACWI). Current valuation multiples are towards the higher end of the range for the historical average (see Chart 1).
Chart 1: Spotlight on Technology
Source: Bloomberg, Aberdeen Standard Investments (as of October 2019)
Within the IT sub sectors, while the more growth-oriented software sector has outperformed over the medium term, in the last few months we have seen a rotation towards value cyclicals in semiconductors and hardware. IT stocks are generally sensitive to a company's spending intentions. Therefore, what should we expect in the near term? Although growth overall remains healthy, most recently we have seen hints of weakening enterprise demand, particularly for hardware, as the Huawei and the US/China trade disputes remain important overhanging issues. Resolution of these would be an important catalyst, as a more favourable outcome has been only partially priced in, judging by the valuation multiples of hardware and semiconductor stocks. Within these areas, we favour companies that are beneficiaries of the burgeoning 5G spending drive, such as Marvell Technology and Taiwan Semiconductor Manufacturing.
There have also been signs that investors are no longer as willing to give the benefit of the doubt to unprofitable technology-related companies. The initial public offerings (IPO) of Uber, Lyft and Slack have all performed poorly this year, alongside the well-publicised shelving of WeWork's IPO. This could be a near-term headwind for the valuations of some of the younger software companies. We expect that this will be less of an issue longer term, as software businesses are extremely profitable once they achieve scale. We also continue to favour payments companies such as Visa and Mastercard given the ongoing shift to cashless payments. We expect these two companies to be the primary beneficiaries within this business segment given their position in the value chain.
In conclusion
A common feature of the global economy is weak productivity growth. One factor behind this is the effect from a wide swathe of businesses forced to restructure so they can capitalise on transformative technologies. In a world of slow growth, understanding technology's impact on the world is vital. A large number of these firms will be in the IT sector, some in other sectors, such as communication services and consumer discretionary. Some of these companies will be long term winners because they are better able to offer more customer-centric products, adapt more quickly, be cheaper and faster to market or simply more convenient. We are bullish on the prospects for such firms as a whole, but remain very selective about how we access these long-term opportunities within the equity markets.
Over the last 10 years IT stocks have outperformed the broader equity market
Eastern Promise: Fixed
Maturity Products in Asia
Chapter 5
Author
The advantages of investing in a Fixed Maturity Product include target returns, low expenses and potentially attractive tax treatment.
Fixed Maturity Products (FMPs) have grown in popularity an asset class in recent years, particularly with Asian investors. The market for these products is now worth roughly $40bn. What is unique about FMPs - and why has so much capital gone into these funds?
Managers align the maturity of the portfolio's holdings with the maturity of the Fund.
What are FMPs
Fixed Maturity Products (FMPs) are closed-end fixed income investment funds. They aim to offer capital preservation plus a target return over the life of the Fund, which is typically three to five years. They consist of portfolios of fixed income instruments including certificates of deposit (CDs), corporate bonds, government bonds and commercial paper. Managers align the maturity of the portfolio's holdings with the maturity of the Fund. This enables them to deliver the target returns and return investors' capital on the Fund's stated maturity.
FMPs differ from traditional bond funds in several key ways. They are closed-end funds, and investors can only invest during the subscription period. Investors are expected to hold the FMP to fund maturity, and there are penalties for redeeming investments early. Lastly, FMPs use a Buy and Maintain approach to keep fund expenses low.
FMPs offer investors several advantages. They give investors a fixed return, thus eliminating interest volatility. Because the portfolio of securities is invested at the launch of the Fund, investors know the return their investment is expected to generate over its life. This compares favourably to the uncertainty of putting money on deposit or in CDs when central banks can raise or lower interest rates. A second advantage is tax treatment. Depending on local regulation, FMP investors can often treat their returns as capital gains rather than ordinary income. Last, FMPs offer investors the ability to generate attractive fixed returns from the global universe of corporate bonds. In a lower-for-longer rate environment, coupled with the expectation of further central bank easing, global corporate bonds present investors with opportunities to generate higher returns than can be achieved by many fixed income alternatives.
What should investors look for in FMPs?
FMPs do entail higher risk for investors than bank deposits or CDs. Returns are not guaranteed and investors can experience losses. As the primary investment objective is to achieve capital preservation, a good FMP portfolio requires robust risk management. This involves far more than screening for higher yielding securities that align with the Fund's maturity date. Key risks faced include credit, market and reinvestment risk. The manager must identify and manage these risks from the initial stages of portfolio construction, investment and then managing through to Fund maturity.
Looking at credit risk, the FMP portfolio must aim to avoid experiencing credit losses. The primary concern is default, namely an issuer failing to repay its debt when it falls due. Additionally, other Fund guidelines - such as a minimum overall portfolio rating or maximum allocation to sub-investment grade bonds - could be breached if the credit quality of portfolio holdings deteriorates. If the portfolio is forced to dispose of holdings after credit deterioration, it may realise credit losses that adversely affect the FMP's expected return.
Managing credit risk begins with understanding the credit quality of every portfolio holding. The fund manager must assess whether the issuer will be able to repay their bonds when they fall due. Cheap bonds are often cheap for a good reason! To be effective, FMP portfolio stock selection must be based on forward-looking views rather than historical financial performance or backward-looking credit ratings. Strong bottom-up research capabilities are essential, in the context of an ever-changing business environment.
Managing market risk involves maintaining sufficient diversification with respect to geography, sector, and thematic drivers. The fund manager should ensure the portfolio is not overly concentrated or correlated to any individual macro-economic factor. For example, too much exposure to cyclical industries like commodity producers or retailers risks losses in the event of economic downturns. Sophisticated risk management should include conducting stress tests on portfolios to assess their ability to withstand various market risk scenarios.
Reinvestment risk is a further danger which can be overlooked by investors and market participants. Corporate bonds offer FMPs the opportunity to generate attractive returns, but much of the corporate bond universe is callable – issuers have the right to redeem their bonds prior to their legal maturity at a specified price. If an issuer calls a bond held in the FMP, the manager must replace the holding with another offering the same yield in order to avoid a decline in the expected return. Reinvestment can be uniquely challenging for FMPs, given the specific Fund maturity date and other investment guideline restrictions. Thus, the manager must anticipate and proactively manage reinvestment risk from the early stages of portfolio construction through to Fund maturity.
FMPs and a global investment opportunity set
The last key element to the construction of a good FMP is global scale and reach. Fund managers with access to pools of capital around the world will provide better opportunities for FMP investors. In 2019, we have seen a dramatic increase in the amount of negative-yielding assets worldwide. As a result, many global investors are changing asset allocations to seek out positive returns. Asian credit is a market which stands out in terms of attractive valuations and strong credit fundamentals (see Chart 1). We believe BB rated credits offer attractive valuations for inclusion in FMP portfolios: For those investors worried about further declines in interest rates and spread compression, maximizing FMP returns will benefit from allocation to Asian credit.
Chart 1: BB Spreads - Asia vs High Yield
Source: Bloomberg, Thomson Reuters Datastream, Aberdeen Standard Investments (as of October 2019)
Managers align the maturity of the portfolio's holdings with the maturity of the Fund.
Actions speak
louder than words
Chapter 6
Author
Stewardship and ESG integration are rightly driving major changes in the analysis of companies and the allocation of capital. The speed of this change is important to help address some pressing global problems.
Allocating capital to bring about change
It has been recognised for some time that financial services firms have a major influence on the organisations to which they provide capital, through bonds, equity, loans and other vehicles. However, the stakes are rising as both policy makers and the ultimate owners of capital, such as individuals, charities or pension schemes, hold asset managers to account. Financial services firms are reacting to this heightened focus by seeking to demonstrate their consideration of environmental, social and governance (ESG) factors, and - where necessary – by showing their ability to influence companies to change.
The role of asset managers in allocating the capital of others brings with it important responsibilities
Firms are also responding, as they undertake additional ESG analysis, sourcing additional data and developing transparent reporting systems. Policy makers are putting significant efforts into the development of regulations and codes of conduct. The ultimate objective is to harness the influence of capital flows to deliver important changes, most significantly the transition to a low carbon global economy.
Codes of Conduct
The role of asset managers in allocating the capital of others brings with it important responsibilities to deliver the desired outcomes of those who appoint them. Managers' ability to deliver these outcomes is important to those using their services. This is often assessed by their adherence to various codes, standards and regulations that have been developed during the last two decades. Adherence to such codes is based on detailed reporting and disclosures, designed to demonstrate their achievement of defined standards. Jurisdictions around the world have recognised the power of such policies and codes to drive change. Indeed, those attracting the most signatories tend to be the ones developed for global use such as the UN-supported Principles for Responsible Investment (PRI). One problem, however, is that each country has often put in place their own versions, based on those already in place in other markets or on standards proposed by global actors such as the Organisation for Economic Co-operation and Development.
The recognition that the allocation of capital can potentially drive significant economic change has also led policy makers to create policies that apply to more stakeholders within the overall investment chain. Such activity stands alongside consumer concerns about the impact of companies on the environment and wider society, and are driving significant change along the investment chain.
Together, these trends are creating a broader framework of accountability. Asset managers aim to demonstrate their responsible allocation of capital via a high standard of engagement with the companies or organisations in which they invest or to which they allocate capital. As a result, fund managers are creating more clearly defined investment policies and processes, allowing them to integrate the consideration of ESG factors into their decision making. Engagement and disclosures are quickly developing to demonstrate better the inclusion of ESG factors within both portfolios and products.
Many of these developments are occurring on a global basis. An example is the implementation of global frameworks such as the standards developed by the Taskforce for Climate-Related Financial Disclosure (TCFD) and the assessment of impact-investing funds on the UN-sponsored Sustainable Development Goals (SDGs). The increasing use of such frameworks across the investment chain and by policy makers is creating more standardisation. That said, we are at a relatively early stage with a small number of players at the forefront of such change.
Chart 1: % of Companies that Disclose Information Aligned with TCFD Recommended Disclosures - 2018
Source: TCFD - Task Force on Climate-Related Financial Disclosures (as of Dec 2018)
According to the TCFD 2019 Status Report1, there is a growing demand for climate related information by investors. More than 340 investors with nearly $34 trillion in assets under management have committed to engage the world's largest corporate greenhouse gas emitters. The aim is to strengthen their climate-related disclosures by implementing the TCFD recommendations. Financial regulators are also concerned. In April, the Network for Greening the Financial System, comprised of 36 central banks and supervisors, issued six recommendations. These are aimed at facilitating the role of the financial sector in achieving the objectives of the Paris Agreement. In responses to the 2018 TCFD report, preparers identified several implementation challenges: climate is embedded in processes and is challenging to discuss separately in disclosures (49% of respondents); disclosing assumptions is difficult because they include confidential business information (46%); and there is a lack of standardised metrics for our industry (42%).
A combination of roles
More and more investors are accepting that they have an important role in helping address some significant global environmental and social issues. Such a commitment means they must take responsibility for encouraging positive changes in the businesses they invest in to achieve the desired outcomes. It is also important for policy makers to continue to develop the necessary policies to influence more players along the investment chain. However, there are risks to consider: investors and policy makers must maintain an awareness of each other's actions of each other to ensure that the necessary outcomes are delivered. Rather than developing even more codes and standards, it would be preferable for policy makers, standard setters, asset managers and key investors work together to use the existing frameworks. A successful conclusion would help to align long-term capital allocation with the outcomes that are desired by those who provide the capital, and that are needed by society as a whole.
---
1
Task Force on Climate-Related Financial Disclosures (TCFD) 2019 Status Report – June 2019
The role of asset managers in allocating the capital of others brings with it important responsibilities